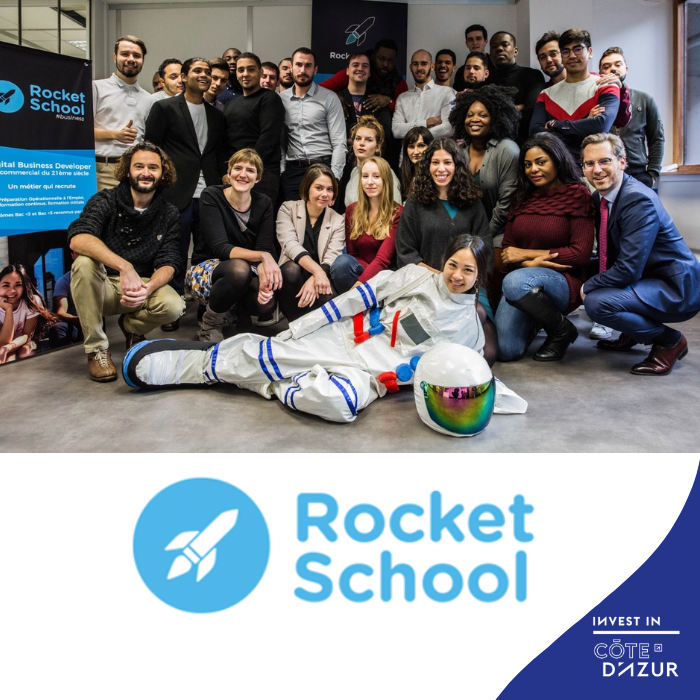 Rocket School, the digital school dedicated to high-tech sales, is pleased to announce the opening of its 9th campus in Nice.
Founded in November 2018 by Cyril Pierre de Geyer, this institution focuses on training talents between the ages of 20 and 50, with a primary emphasis on their personality and non-technical skills.
Having already established its presence in Paris, Lyon, Marseille, Bordeaux, Nantes, Lille, and Le Havre, Rocket School will welcome a new cohort of 30 students from Nice starting from October 30th.
Rocket School Nice is already actively seeking companies that are willing to hire business developers. They can contact the school by clicking on this link.
Applications will soon be open for those aspiring to become the Business Developers of tomorrow. Selected candidates will be evaluated based on their personality through an online test and an in-person interview as part of the school's integration process.
Afterwards, students will undergo a three-month intensive training program as Digital Business Developers, during a bootcamp designed to make them operationally ready. They will then continue their journey with a one-year apprenticeship within one of the top startups in the region.
Furthermore, Rocket School plans to offer new training programs focused on digital marketing, community management, and customer relations shortly after its opening in Nice.
The South – PACA region is currently experiencing significant growth, with 291,000 recruitment projects across all sectors, including 4,400 in the digital domain.
The Côte d'Azur has more than 1,000 recorded recruitment projects. The region became a digital hub over 40 years ago with the establishment of the first technopole in Europe.
Nice continues to develop year after year and now boasts around twenty incubators, accelerators, and startup nurseries.
French Tech Côte d'Azur brings together entrepreneurs and ecosystem stakeholders, contributing to the growth of startups in the region. Between 2019 and 2022, these companies, spanning various sectors, managed to raise 527 million euros in funding.
Ghislaine Ellena, Director of Pôle Emploi Alpes Maritimes, highlights the significance of the development of high-tech and digital companies on the French Riviera, emphasizing the increasing job opportunities and the need to support job seekers in pursuing the jobs of the future.
Partner companies have already committed to supporting the future talents trained by Rocket School. With its network of over 3,000 partner companies, the school facilitates the search for tailored apprenticeships for each student. Indeed, Rocket School boasts an impressive employment rate of 96% upon completion of the training program.
In Nice, numerous companies are positioning themselves to recruit these future digital sales professionals and are committed to training the emerging key players in the region.
Constance Cottin, Director of the Rocket School Nice campus, emphasizes the significant opportunity that exists between Sophia Antipolis and Nice in the fields of commerce and digital technology. The local ecosystem is experiencing rapid growth, and all indicators are positive for the deployment of Rocket School's anti-unemployment algorithm in the region.
To launch this new training program in Nice, Rocket School is partnering with Village by CA, a unique innovation accelerator program for startups and companies, as well as the local French Tech community.
Founded by Cyril Pierre de Geyer, an affiliated professor at HEC Paris, former director of Epitech, creator and director of the Executive MBA programs at the IONIS Group, entrepreneur, and business angel, Rocket School is an institution specialized in digital training. Rocket School offers Bachelor's (Bac+3) and Master's (Bac+5) level degrees and has been granted the Grande École du Numérique label by the Ministry of Economy and Finance.
---
Companies Investment – Nice Côte d'Azur France