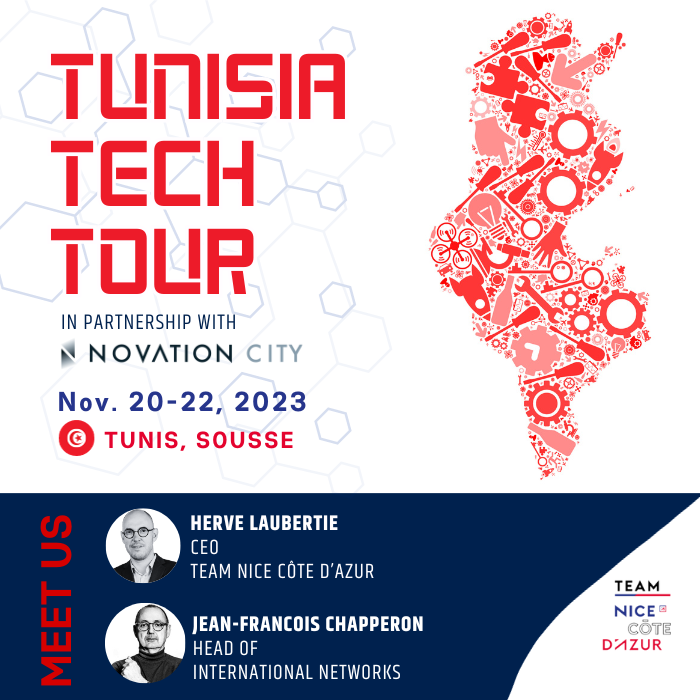 Tunisia Tech Tour
From November 20th to 22nd, Hervé Laubertie and Jean-François Chapperon from Team Nice Côte d'Azur, in collaboration with the Technopole NOVATION CITY of Sousse, are organizing a Tech Tour in Tunisia.
This strategic initiative aims to establish enduring business relationships between Tunisia and Nice Côte d'Azur Metropolis, with a focus on the technology and innovation sectors.

This approach is part of a broader perspective, recognizing Tunisia's growing role as a key player in the Mediterranean and South European economic and technological landscape.
Objectives of the Mission
The delegation, consisting of Team Nice Côte d'Azur and members of French Tech Côte d'Azur, plans targeted meetings with startups, academic and research institutions at Novation City, as well as with key players from DOT and Startup Village.

These interactions aim to explore opportunities for collaboration and mutual investment. Additionally, the mission includes appointments with companies considering establishing themselves on the Côte d'Azur, such as Liberty Com System, which will share its recent experience of setting up in Nice.
Future Perspectives and Long-Term Commitments
This initiative is part of a long-term commitment between the two territories. In 2024, a return mission is planned, with Tunisian companies visiting Nice, thus highlighting the reciprocity and sustainability of this international collaboration.
Focus on Recent Establishments of Tunisian Tech Gems
Liberty Com System:
Liberty Com System, a startup specializing in connectivity for international travelers, established itself in Nice in 2023 and raised €3 million in pre-seed funding, one of the largest in Europe. Offering flexible and affordable mobile data plans, the company intends to recruit over 15 specialists in 2023, particularly in telecommunications and development. Saïd Aïdi, President, emphasizes the importance of the location in Nice for connectivity with Tunisia and IT recruitment. With the support of Team Côte d'Azur, Liberty Com System aims for rapid industrialization for a launch at the end of 2023 or early 2024.
Nextstep Europe:
Nextstep Europe, a subsidiary of Nexstep IT, recently established itself in the Nice Côte d'Azur Metropolis. Specializing in information system infrastructure solutions, cybersecurity, and collaboration tools, the company aims to stimulate the transformation and growth of its clients. Tahar CHAHMI, Business Development Manager, highlights the strategic importance of Nice for the company's expansion in France and Europe. This establishment strengthens Nice's position as a major technological hub and offers new opportunities for collaboration and innovation.
---
Team Nice Côte d'Azur – International