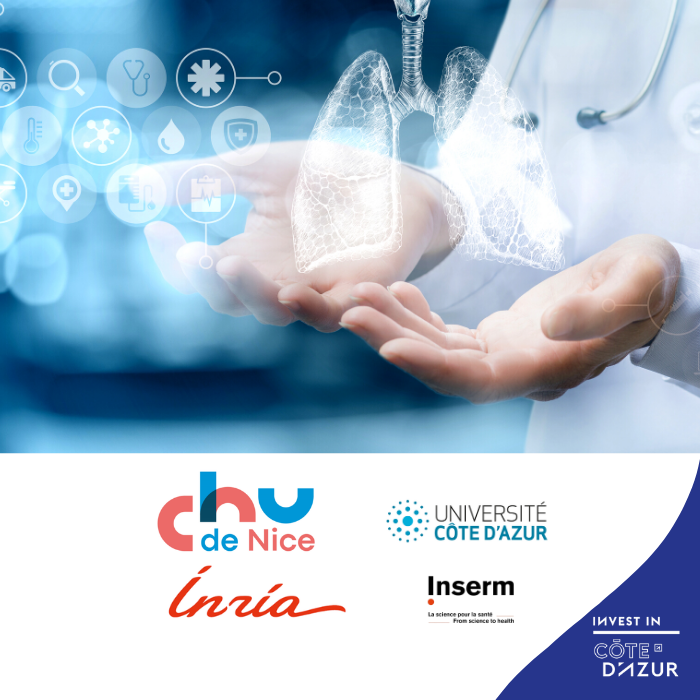 The University Hospital Center (CHU) of Nice, University Côte d'Azur, Inria, and Inserm have been selected by the National Research Agency (ANR) to create a Hospital-University Institute (IHU) in Nice.
This decision follows a call for projects initiated by the French government and is part of the France 2030 plan.
As part of this plan, the government has allocated 1 billion euros to strengthen medical research, with a call for projects endowed with 300 million euros for the creation of up to six new Hospital-University Institutes (IHUs) in France.
The proposal submitted by Nice was defended before an international jury at the ANR on February 2, 2022, and it was selected and awarded a grant of 20 million euros.
This Hospital-University Institute (IHU) will be a new center of excellence focused on the connections between respiratory health, the environment, and aging. Its objective is to enhance the fight against respiratory pathologies, given the overall acceleration of environmental degradation, including climate change, air pollution, and allergens.
Named RespirERA, the project is led by Professor Paul Hofman, who was responsible for the discovery of an early lung cancer screening test and serves as the head of the laboratory of clinical and experimental pathology at the University Hospital Center of Nice. It also involves Professor Charles-Hugo Marquette, a pulmonologist and oncologist at the University Hospital Center of Nice, along with over a hundred researchers from the University Côte d'Azur, Inria, Inserm, and doctors from the University Hospital Center.
It will be dedicated to several diseases, including chronic obstructive pulmonary disease (COPD), fibrosis, cystic fibrosis, and lung cancers.
The Minister of Health, François Braun, reacted to this announcement "With the creation of the new RespirERA IHU, Nice is poised to become a center of excellence in research and medical innovation in the field of respiratory pathologies. This is excellent news and a demonstration of the dynamic projects undertaken by researchers, clinicians, and entrepreneurs, all for the benefit of improving patient health. The government will firmly stand by Nice and its teams to meet this challenge and invent the healthcare of tomorrow starting today."
For Christian Estrosi, Mayor of Nice and President of the Supervisory Board of the University Hospital Center of Nice :

'Hosting a Hospital-University Institute in Nice is a first. The Nice Côte d'Azur Metropolis, the 5th largest metropolis in France, had an IDEX University that, until now, was the only one without an IHU.

I am delighted that the hospital-university excellence in Nice is now being recognized at such a level, and I would like to express my gratitude to the Ministers of Health and Higher Education and Research, François Braun and Sylvie Retailleau, for their trust. Beyond a scientific and medical label, it is also a recognition of the commitment of an entire region that supported this candidacy.

We are fortunate to have in Nice renowned professors who are internationally recognized, along with their teams, who provide indicators that serve as valuable decision-making tools to better design prevention programs. As President of the Supervisory Board of the University Hospital Center of Nice, I commend the commitment of the clinicians at the University Hospital Center, Antoine Lacassagne Center, and Lenval Hospital, as well as the researchers and professor-researchers from the joint laboratories (University Côte d'Azur / CNRS / Inserm – IRCAN, IPMC, C3M, IBV, LP2M – Inria, and 3IA) who advocated for this project.

I would like to give special recognition to Professors Paul Hofman, Charles-Hugo Marquette, and Sylvie Leroy for their leadership in this endeavor.

The themes linking respiratory health, environment, and aging are at the core of our public health and urban planning policies. Our Hospital-University Institute project, named RespirERA, focuses on research, education, and innovation in the field of respiratory diseases. It carries a national and international ambition centered around a personalized and participatory approach, in which the patient will be at the heart of the system."
---
Health – Nice Côte d'Azur France