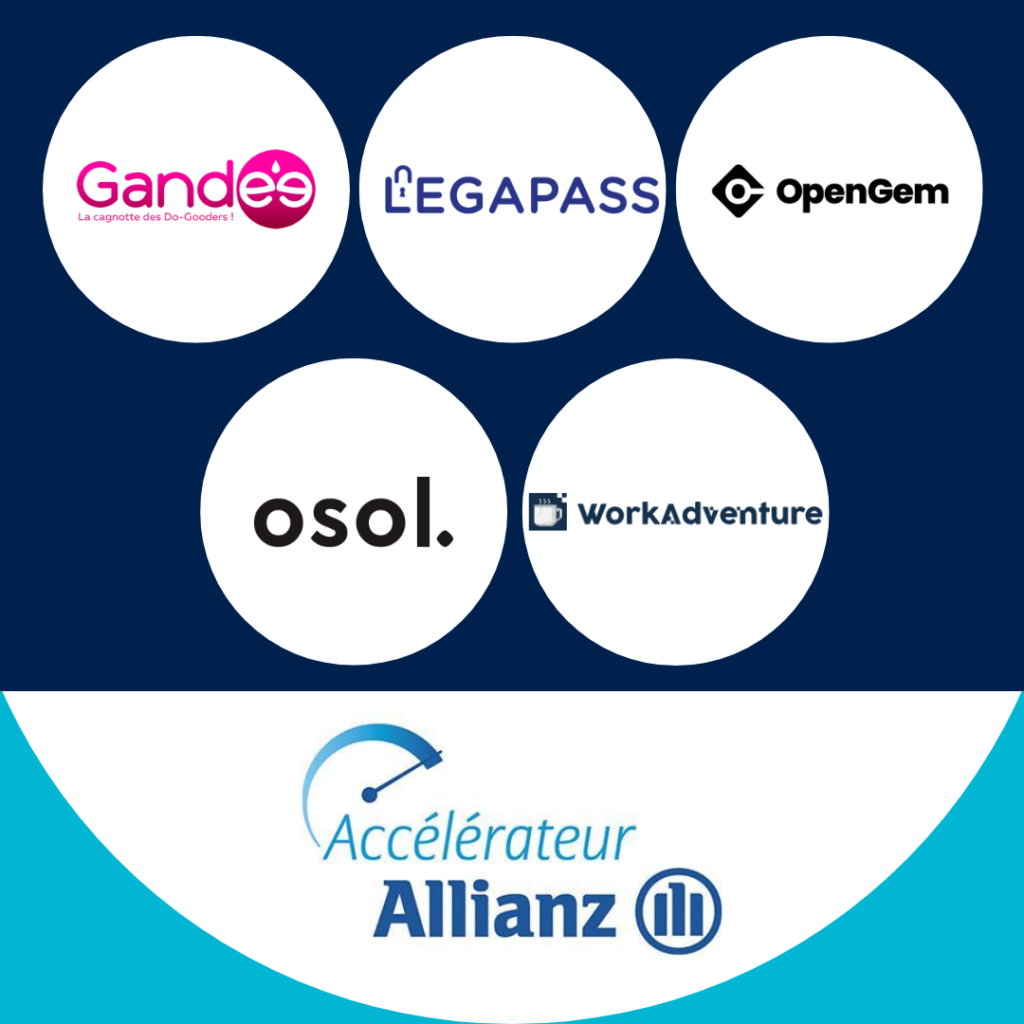 Allianz France's accelerator, based in the Allianz Riviera stadium in Nice, has selected 5 startups for its 13th cohort (Fall Batch #22):
A web3-focused cohort that allows the accelerator to explore the metaverse.
For this new cohort, the jury of Allianz France's accelerator, composed of representatives from Allianz France, has selected five startups in the fields of web3, tech for good, and the future of work from a highly diverse international preselection.
During the 6-month program, the accelerated startups benefit from a network of experts and mentors, leading French and international funders and investors, as well as structured and personalized support with a focus on fundraising and international development. The startups may also be offered a strategic partnership with Allianz or have the opportunity to test their solution internationally, leveraging the global presence of the group in over 70 countries.
"The accelerator continues to explore innovation topics and ventures into the metaverse and web3 with startups that address security or transmission challenges, which are essential for an insurer, as well as pragmatic use of the metaverse to facilitate hybrid work. The future of work remains a key theme for Allianz France, a pioneer in new ways of working." satted Sylvain Theveniaud, Director of Allianz France's accelerator.
The 5 startups that make up the new cohort
Gandee is a Solidarity-as-a-Service solution that enables SMEs to easily engage in corporate social responsibility (CSR) programs and solidarity initiatives in support of trusted associations through turnkey solutions.
Legapass provides a solution to the unresolved issue of digital heritage succession. Legapass is an ultra-secure platform where users can deposit their access codes to ensure that their cryptocurrencies, NFTs, other digital assets, as well as their photos, can be fully recovered by their loved ones in the event of their passing.
OpenGem is a standard for securing NFTs. OpenGem provides tools for users and developers to audit and secure the ownership of NFT digital assets.
Osol is an impact-driven startup that has developed the first network of portable chargers (smart batteries) capable of eliminating a significant portion of cables in work environments. They help improve the hybrid work experience for employees while optimizing real estate, electrical, and IT costs, as well as employee productivity.
Workadventure (Metaventure) is an open platform for creating virtual offices and metaverses. The technology enables metaverses to be lightweight, high-performing, and accessible from any device worldwide, bringing people together without creating new boundaries.
A Startup In Residence program that bears fruit:
The accelerator has been running a "Startup in Residence" program for several years.
These startups from abroad develop within the accelerator and share their culture and experience with the accelerated startups. The program welcomes promising startups such as the American startup Zendoc, which offers an artificial intelligence-powered contract management solution.
Zendoc has recently been acquired by the unicorn SirionLabs, which boasts renowned investors such as Sequoia Capital and Tiger Global and manages over 5 million contracts worth more than $450 billion in value across more than 70 countries.
Through the acquisition of Zendoc, SirionLabs is establishing a research and development center of excellence in Nice, which will be the second one globally, following the one in Canada.
An acceleration momentum that shows no signs of slowing down and an evolving program:
The acceleration program has facilitated several fundraising rounds since the previous batch. Citalid, in the field of cybersecurity, raised €12 million, while CozyAir, a specialist in indoor air quality, recently completed a new fundraising round of €1.5 million.
As part of the "cross innovation" program, which is at the core of the accelerator's DNA, and in the framework of the partnership for health startups with Villa M, Wemed has joined the first iMpulsion acceleration program.
Furthermore, the alumni network plays an important role in facilitating acquisitions. Therefore, following the acquisition of Finsquare by October in 2016, MyCoach, one of the startups from the first batch of the accelerator, has acquired Joinly, a startup from the latest cohort. This consolidation of assets between the two companies strengthens the digital service offerings for the French sports movement.
Lastly, to adapt the program to the evolving needs of startups, a master class focused on transitioning to a mission-driven company has been designed in collaboration with RAISE's new activity in Nice. This addition further enriches the already comprehensive program offered by the accelerator.
This moment of sharing and learning will raise awareness among startups about the importance of commitment and social mission, which are crucial in terms of positioning and customer purchasing decisions.
---
Startups – Nice Côte d'Azur (France)