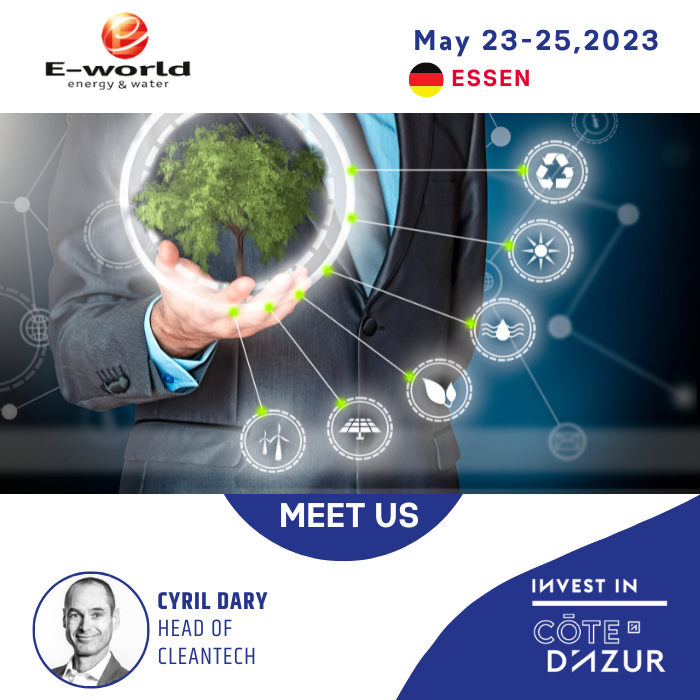 This international trade fair, which takes place from May 23 to 25, 2023, is a must-attend event for the energy and water industry.
This professional meeting allows industry players to discover the latest trends and innovations in energy, water, and sustainable development. It brings together professionals from around the world, from businesses to public decision-makers, to exchange ideas on current issues in the industry and find innovative solutions
With this participation, Invest in Côte d'Azur will have the opportunity to meet with experts and key players in the industry in order to promote the investment potential of the region in the Cleantech field and strengthen collaborations with international players present at the trade fair.
The Nice Côte d'Azur Metropolis and the Côte d'Azur are at the forefront of Ecotechnologies and smart cities, with strong involvement from all stakeholders in the region to facilitate large-scale experimentation of sector innovations.
The Nice Côte d'Azur Metropolis is strongly committed to the ecological transition of its territory and has implemented innovative projects to achieve this goal. The metropolis is working with SUEZ for the construction of the station Haliotis 2 is the largest wastewater treatment project in France and one of the largest in Europe. and with Dalkia in order to create a local network of renewable energy sources aimed at meeting the heating and cooling needs of the Grand Arénas eco-district using a decarbonized solution: the thermal energy of water treated by the Haliotis wastewater treatment plant.
In addition, the region is home to the sustainable city project of the ZAC Parc Méridia, which was launched in the incubation phase as part of the 'Demonstrators of the Sustainable City: Inhabiting France Tomorrow' program. Led by EPA Nice Écovallée, the project aims to develop the productive economy while taking into account sustainable development issues.
The Côte d'Azur is home to centers of excellence such as IMREDD, major companies such as Schneider Electric, as well as talented startups such as Qualisteo, Klearia, or Earthwake, which specialize in energy consumption management or water treatment.
In 2023, Nice will also host the Nice Climate Summit, the first international event dedicated to biodiversity and climate. This summit, organized by the Nice Côte d'Azur Metropolis, the City of Nice, and La Tribune, aims to bring together cities committed to fighting climate change and preserving biodiversity.
In June 2025, Nice will be at the center of global attention by hosting the United Nations Ocean Conference (UNOC 2025), a first for France. This international conference will bring together leaders and governments from around the world for a week of discussions and decisions on issues related to sustainable management of the oceans and marine resources.
Both events demonstrate the region's commitment to building sustainable solutions to address the consequences of climate change and to preserve biodiversity.
---
Cleantech News – Nice Côte d'Azur France