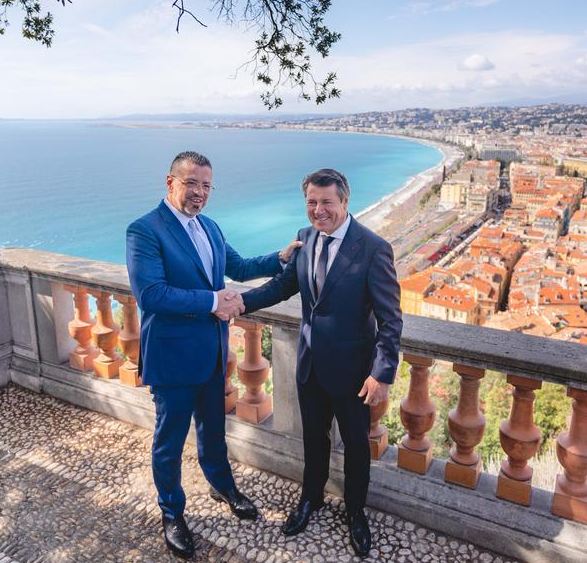 On March 19, 2023, His Excellency the President of Costa Rica, Rodrigo Chaves Robles, visited Nice to meet with Christian Estrosi, the Mayor of Nice and President of the Nice Côte d'Azur Metropolis. Their meeting was in preparation for the upcoming United Nations Ocean Conference, which will take place in Nice in June 2025.
The conference, co-hosted by France and Costa Rica, aims to address the challenges of sustainable ocean management and marine resource conservation. Delegates from the UN member states, civil society, industry, and science will discuss topics such as the protection of marine ecosystems, prevention of marine pollution, and conservation of marine resources.
During their meeting, Christian Estrosi and Rodrigo Chaves Robles discussed plans for the conference and expressed their mutual satisfaction at working together on this historic event. They also held a press conference and a reception at the Villa Masséna, where Rodrigo Chaves Robles was made an honorary citizen of Nice.
"The United Nations has entrusted France and Costa Rica with the organization of the 3rd UN Ocean Conference, and together they have decided that this critically important event for the future of the oceans and the planet will take place in Nice in June 2025.
France has chosen Nice as a showcase for coastal metropolises in terms of adaptation to the ecological transition.
The President of Costa Rica, Rodrigo Chaves Robles, accompanied by the Costa Rican delegation, honored us by accepting our invitation to start working together today towards the success of this event. The aim of the conference is to provide the world with a multilateral agreement as important as the Paris Agreement in 2015 for the preservation of the oceans that cover more than 70% of our blue planet.
This official visit reminds us of the importance of international cooperation in protecting and preserving the oceans that regulate life on our planet. The world, if it finds ways to cooperate, listens to each other, and prioritizes exchanges while believing in its ability to transcend divides for the common good, will find the necessary resources to protect and preserve the oceans." said Christian Estrosi.
---
News Nice Côte d'Azur