The Métropole Nice Côte d'Azur has made a strategic choice by prioritizing sustainable sea economy and coastal protection, placing new technologies and innovation at the heart of its ambitious policy in this area.
In this context, Nice will be the center of global attention in June 2025, as it hosts the United Nations Ocean Conference (UNOC 2025). This international conference will bring together leaders and governments from around the world for a week of debates and decisions to discuss issues related to the sustainable management of oceans and marine resources.
Territory's Assets Highlighted
To further amplify this momentum, Stefano Cimmarusti, Head of Project Development at Team Nice Côte d'Azur, will be joined by Jean-François Chapperon at the MetsTrade and Hervé Laubertie, CEO of Team Nice Côte d'Azur for the Assises Économie de la Mer.
Together, they will showcase the territory's assets as a hub of innovation in Europe in the fields of the blue economy and the sea economy, by participating in three professional events in Europe.
This participation will allow the promotion of the territory as a European player in these fields of activity, notably by:
Enhancing the visibility of the Sea Economy and Blue Economy ecosystems
Establishing contacts with potential investors and fast-growing startups wishing to set up in the Métropole Nice Côte d'Azur
Promoting the ecosystem of innovation and higher education in these areas
Highlighting the attractive environment for talents and investors
Participation in Ecomondo, MetsTrade, Les Assises Économie de la Mer Exhibitions
Ecomondo from November 7 to 10, 2023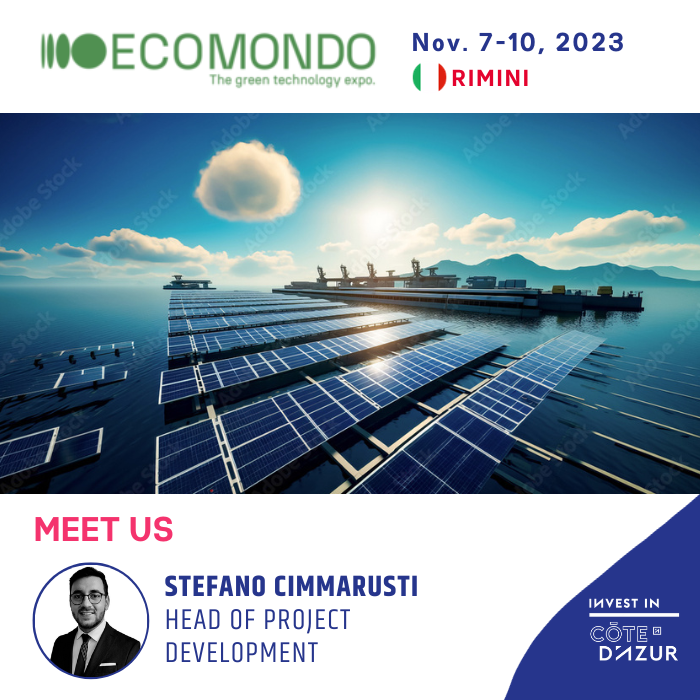 Ecomondo is a leading professional exhibition in Europe and the Mediterranean basin for technologies, services, and industrial solutions in the green and circular economy sectors.
A true hub for research and innovation, it hosts leading companies in environmental services, solutions, and technologies, covering water management, waste disposal, textiles, bioenergy, soil management and protection, transport, agriculture, and sustainable cities.
Learn more: Ecomondo Website
MetsTrade from November 15 to 17, 2023
The MetsTrade event presents itself as an all-in-one platform for maritime industry professionals.
The exhibition allows for an immersion at the heart of the leisure maritime industry with approximately 1,400 exhibitors and thousands of visitors. The event offers excellent networking opportunities and a wide range of innovations are presented.
Learn more: MetsTrade Website
Les Assises Économie de la Mer from November 28 to 29
Since 2005, Les Assises de l'économie de la mer have evolved to become the main annual meeting of the maritime community in France.
With participation exceeding 1,200 people in 2022, this event has become of paramount importance in the maritime sector, becoming a platform for industry experts. A place for dialogue and debates, Les Assises incorporates a strong networking component, offering various opportunities to establish new professional contacts.
Learn more: Les Assises Économie de la Mer Website
The Blue Economy in the Métropole Nice Côte d'Azur and the Côte d'Azur
Since 2020, the Métropole Nice Côte d'Azur has been organizing the Blue Innovation Challenge, which aims to identify companies with innovative solutions in the maritime sector, particularly in port management, coastal protection, biotechnologies, and marine renewable energies.
The first edition rewarded the projects of:
Furthermore, the Côte d'Azur, with its Mediterranean frontage, is not only a prime destination for tourists and boating enthusiasts. The Côte d'Azur is also a major player in the blue economy.
According to a 2020 study by the Economic Observatory of the CCI Nice Côte d'Azur, the region hosts more than 40% of the global yachting during the summer season and the economic weight of the sector is significant with a turnover of 1.7 billion euros, more than 1800 companies employing over 8000 people.
Innovation is another area where the sector excels One in five companies declares having an R&D approach. Innovations are mainly focused on marketing (37%) and organization (31%), key areas to remain competitive on a global scale.
Moreover, the blue economy sector has a strong international dimension. Indeed, more than 50% of companies have an international reach, particularly in the boating and yachting activities. This internationalization is essential for the sector's growth and diversification.
---
Team Nice Côte d'Azur