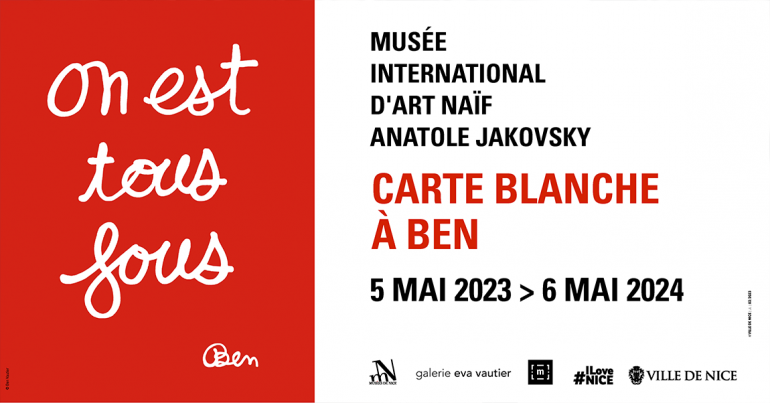 The Anatole Jakovsky International Museum of Naive Art in Nice is hosting an exceptional exhibition by Ben, one of the major artists of the 20th century, from May 5, 2023 to May 6, 2024.
The exhibition titled "On est tous fous" (We are all crazy) offers visitors a unique opportunity to discover over 200 works by Ben, as well as nearly 150 from his personal collection, and some works from the original collection of Anatole and Renée Jakovsky.
Ben is known for his actions and paintings that reflect a reflection on art in its most fundamental form, while integrating our daily lives in its most particular aspects.
Ben's universe is thus presented in over 500 m² of the museum, usually dedicated to naive, raw, and singular art, with affection and humor.
The museum has given Ben carte blanche to occupy this space and create an immersive exhibition that will allow visitors to "dive" into his creative universe.
The installation of the exhibition took less than three months, and some works were created on site. The furniture meticulously selected by Ben and the numerous installations, such as a small living room, a bedroom, a bathtub, a foosball table, tables and chairs conducive to conversation, a projection corner, a platform for debate, and a staircase reinterpreted by Ben and named "the psychiatric staircase", create a kaleidoscope of his most current works. The gardens and terrace also host works by Ben and his private collection that explore the theme of madness and art, while his "ring" is ready to host performances.
The exhibition will be accompanied by a program of events offered throughout the year, including film screenings, unexpected encounters, performances, evenings of madness and philosophy for a unique and immersive experience. Guests will occupy the villa as well as the gardens to enrich the experience of visitors.
This exhibition is being realized with the support of La Poste, which will issue a stamp on this occasion and offer a mail art space within the museum throughout the exhibition.
The opening of the exhibition will take place on Friday, May 12, in the presence of Christian Estrosi, Mayor of Nice, President of the Nice Côte d'Azur Metropolis, Deputy President of the Provence-Alpes-Côte d'Azur Region, Robert Roux, Deputy Mayor in charge of Culture, and Ben.
The exhibition "On est tous fous" by Ben at the Anatole Jakovsky International Museum of Naive Art is a unique opportunity to discover Ben's original and creative universe. An exhibition not to be missed for contemporary art enthusiasts and anyone who wants to discover the singular universe of this major artist of the 20th century. The museum is open every day except Tuesday, from 10am to 12:30pm and from 1:30pm to 6pm.
---
Culture & Heritage – Nice Côte d'Azur France