NOLT is an impact-based company based in Nice that specializes in the manufacture of eco-friendly and circular sports equipment.
Initially focused on sports clubs, the company is currently launching the 'CoBuy' pre-sale operation to provide its community of cyclists with easier access to its eco-responsible technical textiles.
Founded in 2020 by Olivier Guigonis and Paul-Emmanuel Guinard, both with experience in the sports industry, the company has set a goal to create a brand of 100% eco-friendly and circular sports equipment made from recycled polyester.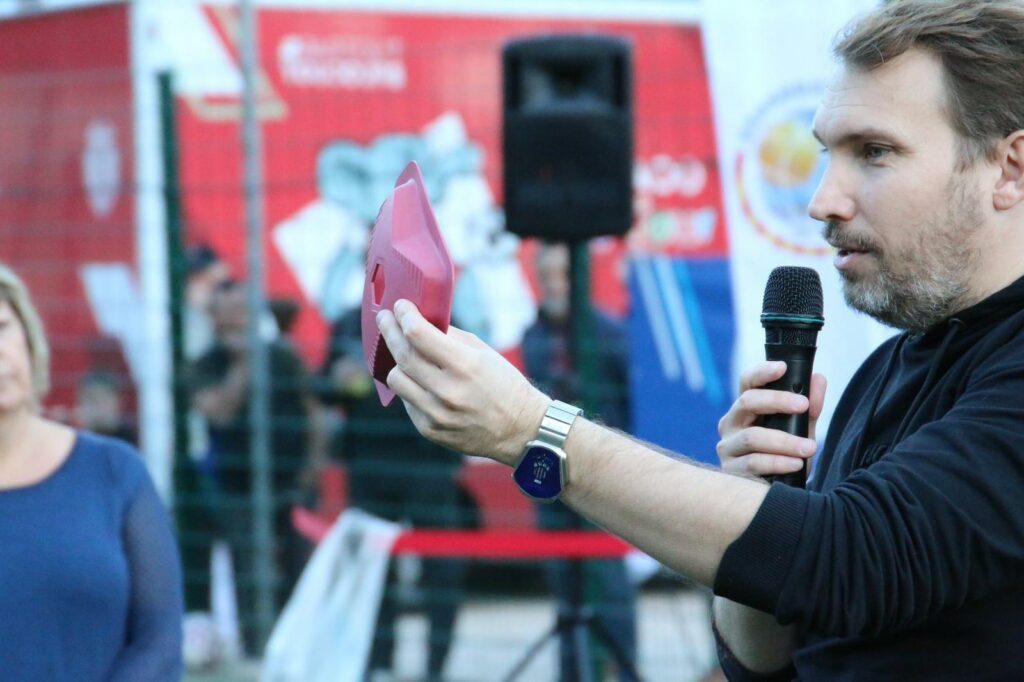 What does it mean to be an eco-responsible sports brand?
First of all, our NOLT brand stands for "Nothing is Lost", which represents both the brand's sports spirit and its mission to make eco-friendly and circular sportswear accessible to everyone.
Indeed, our products are made from the collection and recycling of plastic waste to create items such as jerseys, shorts, sweaters, jackets, and more, which are then sold to sports clubs and individuals.
The plastic we use is sourced from plastic bottles recovered from the Mediterranean Sea and from sorted and cleaned household plastic waste.
The products are manufactured in Europe (Portugal) and are sold to sports clubs as well as individuals.
Completely circular, we want our products to be reused, recycled, or repurposed. To achieve this, our model involves collecting used products from sports clubs, which we then sort by degree of wear. Those in good condition are donated to charitable organizations, while the rest is recycled into new plastic materials that we use to create sports cups, currently for sale at Decathlon.
We are the only sports equipment brand with an in-house solution for product recycling, and we make it easy for our customers to recycle used products with a QR code to facilitate the return of our products.
What is the CoBuy initiative that you have just launched?
This online pre-sale initiative is in line with our desire to democratize access to our products to as many people as possible. We had taken a first step towards the general public at the end of last year with a crowdfunding campaign on Ulule. This campaign was a success and inspired our CoBuy initiative.
For one month, we offer individual cyclists the opportunity to participate in a pre-sale initiative that allows for a decrease in prices on our products as the number of buyers increases. The one-month initiative will end on April 24, 2023.
For example, for a cycling jersey initially sold for €90, the price could drop by several tens of euros depending on the growing number of buyers on our website.
We are committed to offering eco-friendly products for all at affordable and accessible prices, just as we are already doing by being present at Decathlon, which is a model for accessible sports.
What role does innovation play in your company?
NOLT is the first company in the world to recycle polyester and transform it into plastic materials.
We also use sublimation techniques to create custom designs on our jerseys. The manufacturing of our products is done in Europe (Portugal).
We also innovate in our business model, which is completely circular. We ensure that our products have a second life, which is unique in the sports industry.
We continue to innovate by expanding our range of products. While we are focused on technical sports equipment, we also plan to expand into sportswear, as we believe that eco-friendly products should be available in all areas of our lives.
Innovation also involves developing a rental service for our textile equipment, to engage in the functional economy and increase accessibility to our products.
What are the advantages of your presence in the Nice Côte d'Azur Metropolis?
Although the French Riviera does not have a tradition in the textile industry, it is a privileged place for creativity and the design phase of our products, as well as for research and development that has allowed us to develop our innovation in connection with the recycling of polyester.
The R&D project was financially supported by Refashion, the eco-organization for the textile and clothing industry, as well as the Nice Côte d'Azur Metropolis.
Our presence in the Nice Côte d'Azur Metropolis is of great interest to our brand, as we align our development with a region committed to sustainable development and the circular economy, which is in line with our values and missions.
Moreover, it is an exceptional living environment that allows us to attract and retain talent within our team.
Finally, Nice is a tourist and sports city, which allows us to reach a diverse clientele, both local and international, and to showcase our eco-responsible products and our expertise in recycling.
---
Startups Nice Côte d'Azur