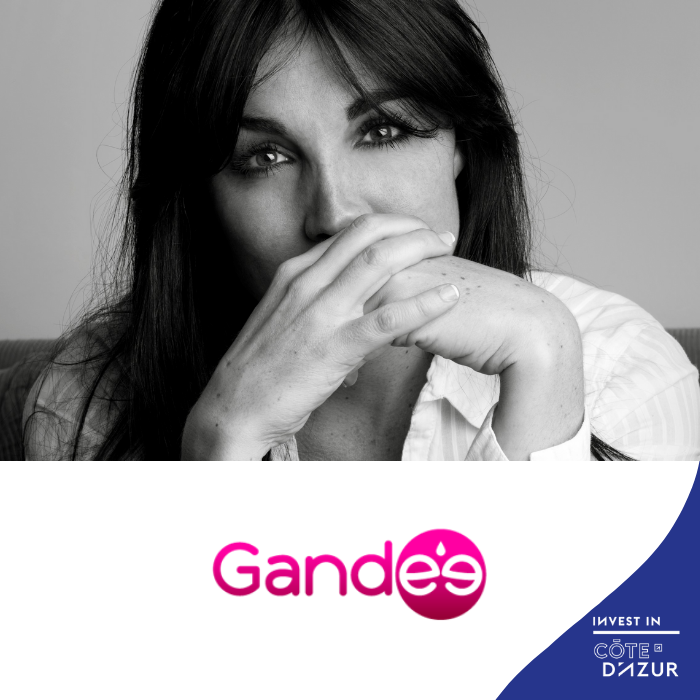 Gandee, the "Solidarity-as-a-Service" solution specialized in implementing philanthropy and CSR programs for companies, announces a fundraising of 500,000 euros from experienced business angels and investment funds.
Gandee, led by Layticia Audibert, is based in Paris and was supported by Invest in Côte d'Azur during its establishment in the Nice Côte d'Azur Metropolis.
This funding allows Gandee to strengthen its team and deploy its innovative solutions that enable businesses (SMEs, startups, small and medium-sized enterprises, and intermediate-sized enterprises) to engage with trusted associations and easily take action.
Corporate Social Responsibility (CSR) is a central issue for all companies.
Between regulations (such as the CSRD directive, the Pacte law, SDGs) and societal pressure, the constraint is felt throughout the value chain: suppliers, customers, employees, banks, investors, and so on.
According to Gandee, the current environment demands the implementation of a clear policy and concrete actions.
Gandee facilitates corporate philanthropy management with its all-in-one platform that simplifies the selection of associations, donation collection, communication, stakeholder engagement, as well as taxation management and administrative relationship with the associations.
A seed funding round led by experienced experts and business angels
After an initial funding round of 150,000 euros at its inception in 2019, this second round will accelerate the development of offerings and deploy innovations in the field of donations, increase the number of companies taking positive action, and amplify the impact of businesses in addressing socio-environmental challenges.
Founded by Layticia Audibert, who previously worked as a lawyer and then as a legal director in asset management, the platform has attracted numerous business angels.
With the support of over 400 client companies, 100 trusted partner associations, 15,000 donors, and 50,000 beneficiaries assisted, Gandee aims to onboard 2,000 companies to make an impact for the common good by 2025, with a goal of collecting 50 million euros in donations. The development will first take place in regional areas and then expand to Europe by 2025.
The mission of Gandee is to:
The European philanthropy market was valued at 22.4 billion euros, and philanthropy in France reached 3.6 billion euros in 2019 (source: France Générosité).
Today, 96% of philanthropic companies in France are small and medium-sized enterprises (SMEs) and micro-enterprises, contributing approximately 23% to the overall philanthropy budget. However, companies often lack the expertise, resources, means, and time to implement an impactful philanthropy strategy. Gandee supports them by being their one-click engagement manager, helping them take action in favor of causes aligned with their values, business, and local presence. This includes areas such as the environment and carbon footprint, education, health, poverty, humanitarian emergencies, and inclusion. Gandee simplifies philanthropy and optimizes impact, allowing companies to save time and resources internally.
"The planet and society are facing major challenges, and companies must take concrete action. Engagement is no longer exclusive to large corporations. Regardless of their size, companies can commit and amplify their positive impact. We are all like hummingbirds ('Colibris'), and each one of us can do our part." declares Layticia Audibert, the founder of Gandee.
Its mission? Their mission is to create a world where businesses are key actors in solidarity engagement, where philanthropy is a common and valued practice, and where every act of solidarity contributes to building a more just and egalitarian society.
Gandee was accelerated at the beginning by Station F, and currently, it is supported by Allianz France and the Village By CA. The Gandee platform has also received the Finance Innovation State label, recognizing its innovative contribution to the financial sector. Gandee has won the Grand Prix de la Philanthropie at the Forum Gestion de Patrimoine (Wealth Management Forum) and is a member of French Impact and Mouvement Impact France. These affiliations demonstrate Gandee's commitment to leveraging innovation for social impact and the greater good.
Indeed, Gandee is committed to its own philanthropic efforts and donates 1% of its revenue to its partner associations through its "1% to Do Good" initiative. Gandee holds the top position in its category for Corporate Social Responsibility (CSR) on the Zei platform.
The services provided by the startup include:
With Gandee, companies gain access to a platform for solidarity engagement and CSR resources, enabling them to support associations that adhere to a quality charter for the common good and align with the Sustainable Development Goals (SDGs) set by the United Nations. Gandee places employees, clients, and partners at the heart of their initiatives. Companies also benefit from dedicated tools that allow them to communicate internally and externally about the impact of their actions. Through these means, Gandee – whose name pays homage to Mahatma Gandhi – remains true to his creed: "Setting an example is not the main means of influencing others, it is the only means."
Therefore, Gandee enables companies of all sizes to:
Gandee allows companies to choose the association that aligns with their values and business through a portfolio of selected associations that adhere to a quality and trust charter.
To collect donations as a socially responsible company, invite their community to participate (employees, clients, partners), and increase their impact.
To benefit from personalized branded tools to communicate with their ecosystem about their commitment, showcasing and measuring the impact of their philanthropic actions.
To benefit from advice, CSR challenges, action plans, resources, and an CSR Calendar to continuously improve their commitments and engage their ecosystem in a playful manner.
Lastly, Gandee also serves as a donation collection tool for its partner associations, allowing individuals to engage through solidarity crowdfunding for their life events such as birthdays, sports challenges, weddings, funerals, and more.
In order to promote the integrity of associations and enable donors and philanthropists to give with confidence, Gandee has partnered with SGS – a global leader in certification and inspection – to create the Do Good label. This label specifically allows for the control of good management, transparency, and impact of associations, thereby enabling donors to make confident and trustworthy donations. The audit, which is agile and innovative, is accessible to associations of all sizes.
Here are some investor testimonials regarding Gandee:
Etienne Leroy, Serial Entrepreneur and Business Angel: My time at Techstars in the USA taught me something important, #GiveFirst, a mantra that entrepreneurs must implement to progress collectively. Investing in Gandee was a no-brainer for me. Layticia Audibert is an exceptional entrepreneur who is pushing boundaries to facilitate and implement large-scale giving."
Thomas Muffat-Jeandet, entrepreneur and Business Angel. having invested in around ten start-ups, Thomas Muffat-Jeandet, entrepreneur and Business Angel, says, "Throughout my career, I have often wondered if what we do in our professional lives has meaning, or gives meaning to our clients. I have often answered yes… but with a project like Gandee, there is a genuine sense of purpose in the business model, the DO GOOD to feel a FEEL GOOD… It is essential to me."
Arnaud Pinte, founder of Ipepper: By investing in Gandee, IPepper continues its policy of supporting impactful startups in the region where technology plays a key role. As an initial client of the Gandee platform, we were impressed by the model of solidarity impact and wanted to further our commitment by directly investing in this wonderful company."
David Eymé, serial entrepreneur in web marketing and digital platforms since 2004 (France, United Kingdom, Ireland, Emirates). "Being a committed multi-entrepreneur, I have often faced the challenge of rallying my employees, partners, or clients around CSR initiatives. I was immediately drawn to Gandee, which democratizes access to CSR engagement. Regardless of the cause supported, engagement should not be limited to those who have the means; it is the story of everyone… and Gandee enables this change!"
Patrice BIDEAU, Director of Operations; Sales, Solution Business and Marketing Director; Advisor to the President, Entrepreneur "There are unforeseen events in life that reinforce certain commitments or beliefs. Personally, I believe that 'humanity is the only true luxury,' and I have chosen to support Gandee right from the very beginning for two main reasons: the DNA of this fabulous project and its founder Layticia, a dedicated and resilient young woman who has been constantly striving to do good since a very young age."
Vincent Peronnet, serial entrepreneur. "In my opinion, investing in a company is a useful act that should be taken very seriously; it should also provide you with as much excitement as going to see a great play. If that's not the case for you, take $500 and go to a casino. As for me, I have chosen to bet on Gandee, inspired by its concept that brings infinite added value to our society, and also inspired by its founder who is the central pillar and possesses all the skills to elevate this project and achieve ambitious results. Being a shareholder of Gandee in 2023 is a great personal satisfaction!"
Caroline Shaw, founder of Vide Maison Riviera: "Gandee is a startup that addresses the challenges of our society and businesses that have recognized that sustainable development is now a necessity. A platform like Gandee facilitates both CSR initiatives for companies and brings together employees around actions that have societal meaning, virtuous levers that are essential for moving towards a sustainable world. Partnering with Gandee, a purpose-driven company, is an obvious choice for me based on my personal beliefs and professional background."
---
Fundraising – Nice Côte d'Azur