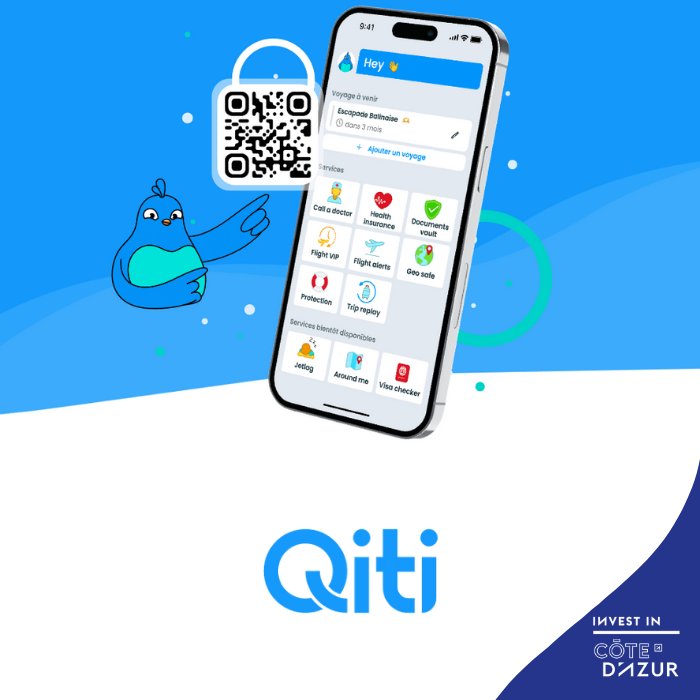 The Nice-based insurtech Qiti has just launched its international health insurance application based on Artificial Intelligence. It will showcase its innovation during VivaTech 2023.
This application, designed for digital nomads and frequent travelers, utilizes innovative technologies such as artificial intelligence, automation, and machine learning (ML). Its aim is to dynamically adjust the protection and coverage of travelers in real-time during each border crossing.
It generates real-time recommendations for coverage and services that align with the personal situation of each user.
The deeptech-labeled startup had announced in April 2023 the closing of a €1.9 million financing round, after having already raised approximately €1.5 million in 2022.
With its significant partnership with INRIA, Qiti positions itself as a leader in generative AI applied to insurance, specifically through its innovative conversational recommendation system (CRS).
The innovations of the Qiti application are at the core of the digital transformation of the insurance industry.
In terms of technological innovations, the Qiti application stands out by revolutionizing the management of international insurance. This application, with its virtual assistant, positions itself as a constantly available digital travel advisor. It is designed to assist, plan, and answer users' questions while recommending the most suitable protection based on their specific needs.
In addition to its advisory function, Qiti also offers real-time security alerts and notifications. By constantly adapting its information to the evolving global context, the application provides travel advice and useful information to ensure the user's safety during their stay.
Beyond these aspects, Qiti also presents itself as an intelligent digital safe deposit box. By centralizing and securing all of the user's travel documents, the application provides valuable assistance in case of loss, theft, or expiration of these documents. This represents an additional level of security, which is particularly relevant in the current digital era.
Regarding the insurance aspect, the Qiti application covers a wide range of essential coverage, including healthcare expenses, hospitalization, and repatriation. This comprehensive coverage addresses the main concerns of international travelers.
Finally, personalization is at the heart of the experience offered by Qiti. The application adapts based on the user's lifestyle, places of stay, specific needs, and sports practiced.
The Qiti application is a major advancement in the digital transformation of the insurance sector, providing a personalized and adaptive user experience in the international health insurance market.
---
IT Cluster Nice Côte d'Azur