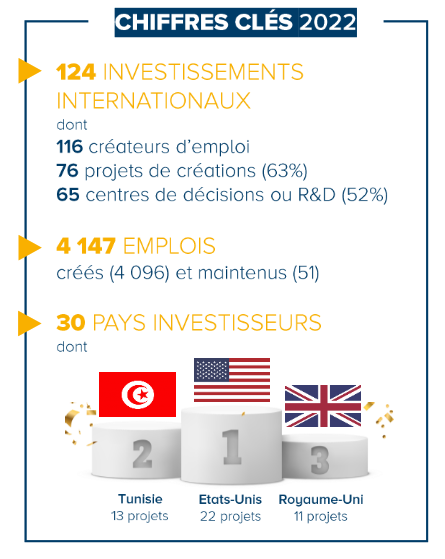 The SUD Provence-Alpes-Côte d'Azur region, which had already distinguished itself in 2021 by attracting 96 international investment projects representing 2,213 jobs created or maintained, announces a record year in 2022 for attracting foreign investments to the region.
With 124 set ups from 30 countries and the creation of 4,147 jobs, the South region reaffirms its attractiveness.
Over the past 10 years, the number of attracted projects and the number of jobs generated in the region has more than doubled.
These results confirm the growing interest of international investors in an attractive region that stands out in particular for its geostrategic positioning, excellent industries, industrial ecosystem, combined with an aggressive policy and concrete commitments in favor of the climate.
The 2022 results mark an increase of +20% in attracted projects and +87% in direct jobs generated in the region compared to 2021. In 2022, these investments involve projects of creation, expansion, acquisition, and takeovers by foreign investors.
It is worth noting that more than half of the projects are decision-making or R&D centers, which allows the region to strengthen its innovation capacity.
The United States remains the first historical investor in the region with 22 projects in 2022, including that of Berlin Packaging, a leader in hybrid packaging, which has established itself in Nice at the heart of Nice Ecovallée.
Tunisia enters the Top 3 with 13 projects, such as the establishment of SELT Marine Group in Vaucluse.
Finally, this year again, the United Kingdom confirms its interest in our region with 11 projects, including the opening of an Easy Hotel establishment in Marseille.
The most beautiful region in Europe, recognized internationally, the France South region is one of the most attractive regions for foreign investments. 4,000 jobs have been created in our region thanks to these investments, which support the daily lives of families of employees and executives! These good results are the result of the work of territorial actors for prospecting and supporting foreign companies, including that of the risingSUD agency, which conducted nearly 270 prospecting meetings in 2022 and participated in 12 international trade shows in 9 countries around the world! People in Provence, the Alps, and the French Riviera can enjoy an innovative region that is turned towards the international market, with a plurality of sectors, while respecting our commitments to the Climate. That's the South!
Renaud MUSELIER, President of the Provence-Alpes-Côte d'Azur Region, Delegate President of Regions de France
---
Companies New Arrivals in Nice Côte d'Azur