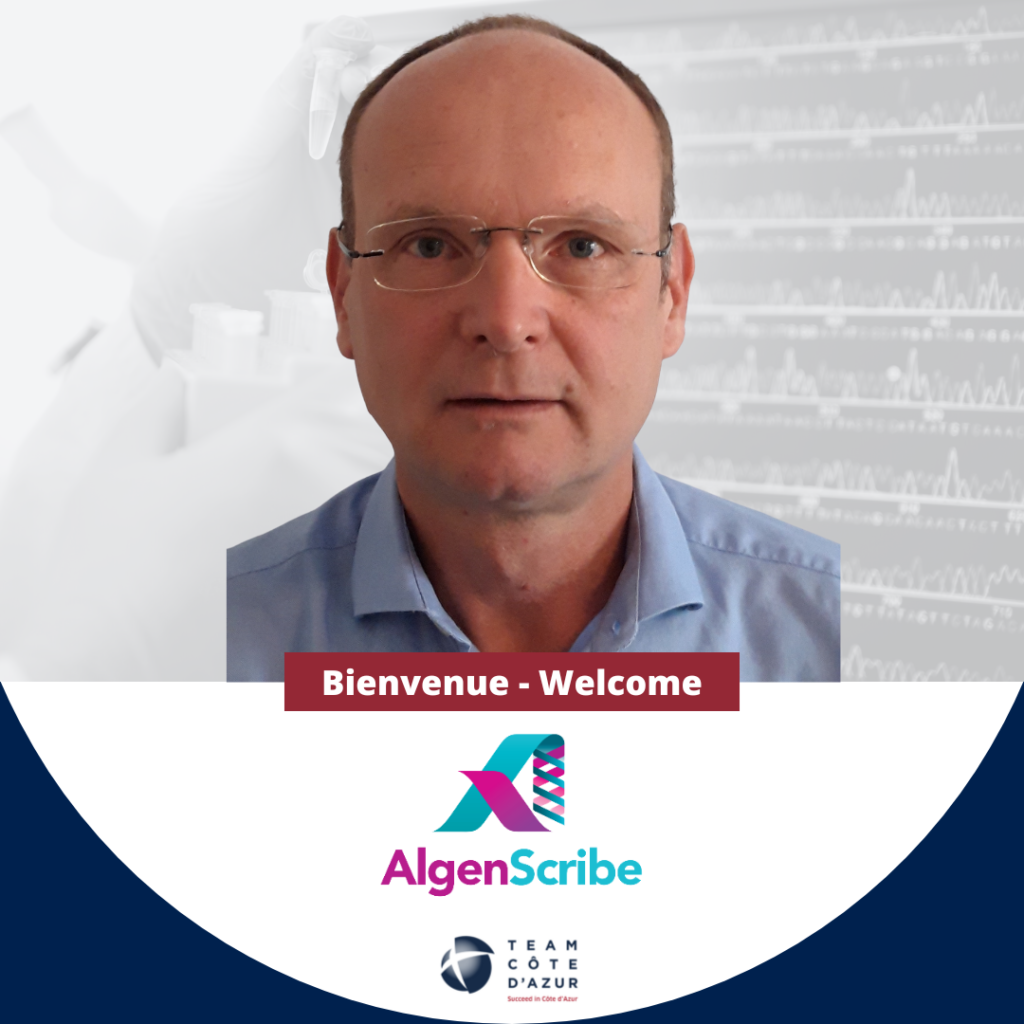 AlgenScribe is a biotechnology company that develops a genome editing platform for the implementation of gene therapies.
The company has chosen Nice to develop its activities.
Interview with Frédéric ZAMPATTI, co-founder and CEO of AlgenScribe.
Can you tell us about your company and your activities?
With the creation of AlgenScribe, we aim to harness the full potential of genome editing in the treatment of serious diseases.
Our technology falls within the scope of gene therapy, which allows for the modification of gene expression in specific cells to treat diseases.
Conventional gene therapy involves using various vectors to deliver new copies of a functional gene to cells. More than thirty years after the first clinical trials, this field is now seeing its first significant successes with several treatments finally accessible to patients.
The "gene scissors" Crispr/Cas9 emerged in 2012. This technology has revolutionized the way molecular biology is done and was awarded a Nobel Prize in Chemistry in 2020.
Different genome editing technologies allow for targeted modifications to the genetic code of a cell with previously impossible precision: this can include disabling a harmful gene or inserting a therapeutic gene.
These technologies have experienced a rapid adoption in research laboratories worldwide and in therapeutic applications with ongoing clinical trials.
In this context of therapeutic innovation, AlgenScribe technologies come into play in synergy with all the molecular scissors used in genome editing.
We facilitate the insertion of the therapeutic gene by providing it in large quantities near the site of the cut, while reducing some undesirable mutations.
The AlgenScribe platform is now aimed at the fields of therapy (gene and cellular), bioproduction, and potentially, diagnostics and tools for research.
We benefit from an exclusive license taken from the French company Algentech. Algentech specializes in editing the genomes of plant cells and synthetic biology and has filed several patents in this field.
It seemed wise to us to leverage the technologies developed by Algentech for the benefit of human health.
What are the specifics of your offer?
AlgenScribe is currently particularly involved in the field of genetic diseases.
When our solutions are used in synergy with Crispr/Cas9, we significantly increase the number of edited cells, which can be very important for certain diseases. We also reduce some of the undesirable effects related to DNA cutting.
French research institutes specialized in genetic disease treatment have confirmed the interest in testing our solutions, and we are currently engaging in several collaborations.
Our goal is to achieve the full potential of genome editing by helping to remove barriers that make it difficult to apply these technologies for certain therapeutic use cases.
Why did you choose to set up on the Nice Côte d'Azur Metropolis?
As someone originally from the Roya Valley, I am familiar with the region. Following the various lockdowns and the emergence of hybrid work, it seemed natural to me to develop AlgenScribe in the area.
The Nice Côte d'Azur ecosystem is conducive to entrepreneurs and startups, particularly in terms of financial support for pre-creation, with the Région Sud Attractivité program. We have benefited from real attention to our project.
We are also supported by the Provence-Côte d'Azur incubator, and we have benefited from the RUE program, which aims to promote innovation and the development of SMEs, SMIs, TPEs, and startups in the Sud Region by establishing collaborations with public laboratories.
Moreover, the region as a whole has real assets in the biotechnology field, particularly with great successes such as Virbac, Therachon, or Innoskel, cutting-edge public research institutions such as the CHU of Nice, and potential partners.
What support are you receiving from Team Côte d'Azur?
The welcome we received from Team Côte d'Azur was excellent.
The support we received was a decisive factor in finalizing our establishment on the territory; without this support, we would likely have decided to establish ourselves in the Paris region.
This collaboration allowed us to quickly discover the right local contacts for the development of the company and to integrate ourselves into the local ecosystem as best as possible. For example, it was important to identify banking organizations that had experience supporting startups, innovation, and research, which was made possible thanks to Team Côte d'Azur.
The services of the Nice Côte d'Azur Metropolis accompanied us in establishing ourselves in the CEEI premises, at the heart of the urban technopole Nice Meridia and on the territory of Nice Ecovallée.
We were also able to benefit from a complete overview of the assistance available for our activity. We are winners of the start-up attractiveness support from the Sud – Provence-Alpes-Côte d'Azur region, and another funding request is currently underway with Bpifrance.
What are your development prospects?
AlgenScribe aims to become one of the few French players in the genome editing field by valuing our technologies in the health sector.
Over the next two years, we will work with renowned research institutes to test our technology for very specific and applied use cases (blood diseases, ophthalmology, rare diseases). Our medium-term goal is to be able to conduct clinical trials and gather the support of pharmaceutical companies to accompany us in the development of our solutions.
Less than three months after establishing ourselves in Nice, we will finalize a first pre-seed funding round with Business Angels in February.
A second fund raising is planned for the end of 2023 with an institutional fund for an amount between €1M and €1.5M.
These funding rounds will allow us to finance our research and development activities with partner laboratories to create synergies and quickly accumulate feedback on our solutions.
We will also participate in the i-Lab innovation competition, created by the Ministry of Education and Research in 1999, in early February. The competition is part of the France 2030 plan and is operated by Bpifrance.
Website : https://www.algenscribe.com/
---
Healthtech News Nice Côte d'Azur