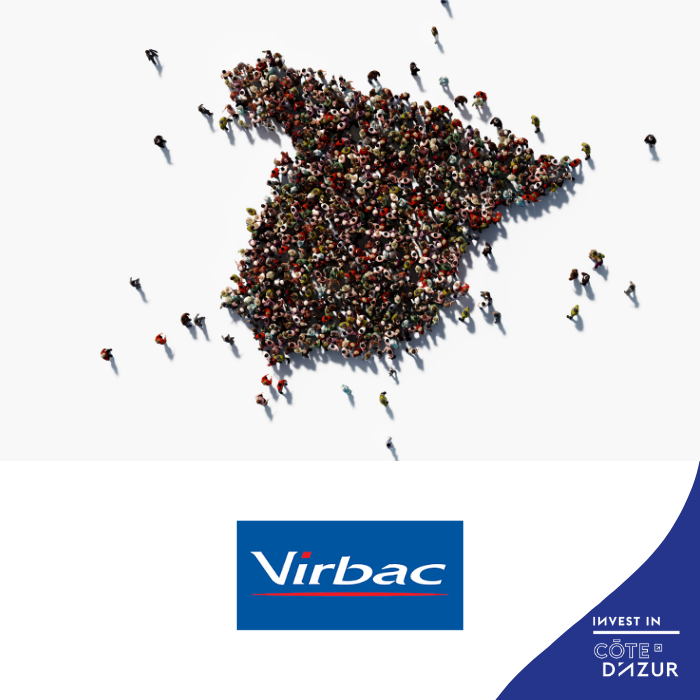 Founded in 1983, Virbac Spain, one of the oldest subsidiaries of the Group, celebrates its 40 years of commitment to animal health in May.
The history of the Spanish subsidiary began one morning in 1983 when veterinary doctor Pierre-Richard Dick initiated the idea of establishing a presence in Spain by inviting his right-hand man, Henri Manrique, to meet him at the airport at 10:15 instead of going to the office in Carros. One week later, Virbac Spain was officially born.
This anniversary provides Virbac with the opportunity to look back on four decades of success.
A subsidiary in constant evolution
Before the establishment of this subsidiary in 1983, Virbac had a presence in Spain through a local distributor. From the very beginning, the Spanish team focused on the segments of companion animals and livestock, which accounted for 71% and 29% of the subsidiary's revenue respectively in 2022. Today, a team of 30 Virbac sales representatives travels the roads of Spain, covering the entire territory through an extensive network of distributors.
Thanks to the dedication of its teams, Virbac Spain achieved a revenue of 36 million euros in 2022, positioning itself as the 7th player in the Spanish animal health market*.
Within the Group, Virbac Spain ranks 9th globally (4th in Europe), thanks in particular to two key pillars: vaccines (especially Bovigen® and Canigen®) and nutrition, with our Veterinary HPM® food range specialized for cats and dogs.
A solid DNA
The close proximity to the headquarters has enabled the rapid establishment of a subsidiary that is perfectly aligned with the values and culture of the Group, highlighting its local roots and its ability to support its clients on the ground.
The Spanish subsidiary regularly participates in major industry conferences, but it also organizes its own events to support veterinarian training and maintain close contact with them.
The marketing team is also highly involved locally and works closely with veterinarians by sponsoring some of their key events.
The added value of Virbac Spain lies in its niche areas of expertise, such as reproduction, which are often overlooked by other players in the animal health market.
This year, the Spanish market is eagerly anticipating the launch of two highly innovative flagship products: Movoflex® Soft Chews, a novel and innovative complementary food combining five ingredients, including eggshell membrane, for a comprehensive action that significantly improves animal mobility, and Cortotic®, a cutting-edge solution for dogs.
The ambition of the subsidiary is to offer the most comprehensive range of solutions dedicated to animal health and well-being while addressing the numerous changes affecting this sector: changes in consumer habits, consolidation of clinics and distributors, as well as recent legislative changes regarding the use and commercialization of medications.
A subsidiary where it is good to work
Having joined the Group as a sales representative nearly 30 years ago, Pilar Molina assumed the leadership of Virbac Spain in 2022. With her diverse experiences within the subsidiary, she possesses an excellent understanding of the Group's challenges, the Spanish market, and maintains close relationships with the teams.
Lors de la dernière enquête Great Place to Work menée en 2021 auprès de tous les employés de la filiale, Virbac Espagne a obtenu un indice de satisfaction de 82 %. This represents a significant increase compared to the 68% satisfaction score obtained in 2018.
Pilar Molina, General Manager of Virbac Spain, states: In continuation of our improvement process and to foster cross-functional collaboration, we are developing a participatory and inspiring leadership through the Otto Walter program designed for managers. Talent development being one of our priorities, we have also implemented several other learning initiatives: a specific long-term training plan for the sales force, courses within renowned business schools on digital marketing, personalized coaching, and more. The objective of this investment? Developing skills and nurturing team initiatives and motivation."
The anniversary of the subsidiary is an opportunity to celebrate, with all employees, 40 years of a wonderful journey where human beings and the well-being of animals are at the core of Virbac concerns and the Group success.
*Source: Veterindustria
---
Healthtech – Nice Côte d'Azur