Specializing in the internationalization of e-commerce websites, the start-up company, based in Sophia Antipolis and founded in 2007, raised €5 million in May 2014, won in December the first prize in the 2014 Technology Fast 50 Mediterranean, landing 6th position of the French classification with a growth rate of 3977 % over 5 years. The company, coming from the PACA-Est incubator in Sophia Antipolis, now counts nearly 100 employees in France, England, the USA and Poland.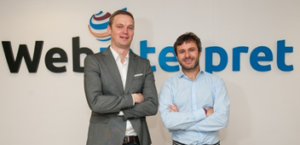 We are passionate about what we do – this is the answer you will hear when asking Webinterpret founders Patrick Smarzynski and Benjamin Cohen about the key to success when running the company.
Today we will reveal the other factors – besides the passion – that helped Webinterpret to grow from a start-up to a company with ten thousand customers.
Founding a startup is a very popular business activity nowadays. Unfortunately it is also a risky one and many companies fail. How did you manage to succeed?
Patrick Smarzynski: The true passion we had and continue to have right now is not a cliché. That passion leads us to the people who are passionate about international eCommerce too. The ability to achieve our objectives grows even stronger when we work in cooperation with other passionate people. Thanks to the support of our partners and investors we have been able to develop a platform that we believe in. Besides the passion, the investments in R&D, hiring the best engineers and PhDs and lots of work were the factors that led us to the place where we are now.
Benjamin Cohen: From the beginning, we were always aware of the international eCommerce challenge. Curiosity about eCommerce led us to the online retailers who were an indisputable source of information, inspiration and insights. These insights showed us that online retailers were left alone with their needs that no one was offering solutions for. As Patrick mentioned, our partners' support and investment helped us to come up with the solution needed by the eCommerce environment.
What needs did online retailers have in the early stages of the eCommerce industry that no one was offering solutions for?
Benjamin Cohen: It was 8 years ago when we started to work on the WebInterpret platform. The international eCommerce industry was new then and had just started. Even obvious insights were undiscovered. What we found out was that online retailers wanted to sell more, generate higher revenue and connect with more customers. Today it would not be a revelation but at that time it was a great tip for us – for people who wanted to create a solution that would help online retailers achieve international expansion. We knew what we should be focusing on.
Patrick Smarzynski: However we have to admit that we made a mistake in the early stages of WebInterpret's development. We created something that only partly addressed online retailers' needs.
What was the mistake you made?
Patrick Smarzynski: From the beginning we wanted to focus on cross border trade and that was a good decision to make at that time. We believed that selling internationally is the best strategy to expand business. That idea brought us to the conclusion that the main issue with international selling is the language barrier. That is why we created a tool which offered daily support for communication between online retailers and their foreign customers. And this was indeed a good idea but not good enough. That was the moment in the company's life when its future was questionable.
Benjamin Cohen: We had to dive deep into cross border trade and take a look once again at what exactly the industry was looking for to make it more effective. We invested capital and involved the best people from the industry. The end result of this research was that the solution we needed to build had to remove the complexity of online international selling. We had to create a turnkey solution that would make cross border trade simple and accessible to anyone who wants to start selling internationally online.
Patrick Smarzynski: That moment was a turning point for Webinterpret. It was also the moment when the current company mission was created. It says that our goal is to fully democratize international eCommerce, making it possible for any company, small or large, to offer their products worldwide with a few clicks.
So how exactly does Webinterpret simplify international online selling?
Patrick Smarzynski: Our service includes the translation and synchronization of eBay, Amazon and – in the near future – also webstore sellers' listings, and communication with their international customers. Their products are listed in the local language, optimized for local keywords and categories. This leads to a huge increase in international visibility for the customers' products, which in turns leads to much higher revenue.
Benjamin Cohen: In addition WebInterpret works with eBay and Amazon sellers' ERP system and with their multichannel tools. This is all designed to simplify eBay and Amazon sellers' international growth, while they take care of their daily business. Many of our customers have seen a 30% increase in sales within two months of launching international sales with Webinterpret.
It looks like that idea worked out because today you have more than 10 000 customers. However, listening to such a huge amount of customers, even with the best will in the world, might create difficulties in actually hearing them. How do you manage to meet the needs of all your customers?
Benjamin Cohen: Webinterpret is a typical Customer Centric Organization. We based the company's structure on customers' needs. Due to that we are able to deliver not only turnkey software but customer service that gives online retailers who sell internationally what they need.
Patrick Smarzynski: Webinterpret has developed several channels through which our customers can contact us and ask us for our support. Our customers are supported by Webinterpret staff that specializes in international sales, whose duty it is to share good practices with them on how to start selling internationally, how to develop international business and how to become a leading player in cross border trade.
How is the business organized?
Benjamin Cohen: Webinterpret is split into two locations. We have one office in Sophia Antipolis in France and another one in Warsaw in Poland. Our project manager team is in Sophia and the customer service center is located in Poland.
Why did you choose Sophia Antipolis?
Patrick Smarzynski: Before choosing Sophia Antipolis as Webinterpret's primary location we made a benchmark which helped us to pick the best location to start the business. The factors that made us choose Sophia were the standard of the technological environment and the international airport. The technological environment was an indisputable source of new ideas. The international airport was so important because it enabled us to travel easily and meet with our business partners. Another thing that was also very important for us was the quality of life in Sophia. We had everything we could wish for in terms of the weather and the surrounding area. Living near the sea and the mountains definitely has an influence on the atmosphere of the place where you do business. I can definitely recommend Sophia as a place to start your business.
Where would you like to see Webinterpret within the next 5 years?
Benjamin Cohen: We would like Webinterpret to be ready to provide services for retailers all over the world. Right now we are working closely with our customers on ideas they have as to how Webinterpret could improve. I believe that this project will have a great impact on our ability to optimise international sales.
Patrick Smarzynski: Webinterpret now focuses on improving the services that we are providing for customers. We have specialist teams that are directly dedicated to the improvement of our translations and technical aspects of the platform. With their support, we are aiming to provide a service that 100% of our customers will be satisfied with.
What is your source of inspiration while managing the business?
Patrick Smarzynski: Delivering happiness by Tony Hsieh. I like the idea described in the book about creating a corporate culture that makes the world more of a place in which everyone wants to live. It inspires me to look at the business from the perspective of making it a happy place. Happy for the people we work with and for those we work for.
Benjamin Cohen: Sailing is the thing that drives my daily motivation and inspiration to run a business that is designed to seize opportunities overseas. Having a competitive spirit in your sporting life can carry over to your business life and stimulate you to focus on your business goals. Also technical news and innovations give me new ideas for the direction of company development.
Patrick Smarzynski: What we also highlight as often as we can is the fact that an unlimited source of inspiration is provided by our customers. The information we receive from them would never be found in a book.
2015 has just started. If you had one wish regarding eCommerce what would it be?
Benjamin Cohen: I would wish any e-merchant would reach international buyer without language barriers and with a steady economy.
Patrick Smarzynski: My wish would be that Cross Border Trade becomes natural and that all sellers who start an online business start selling internationally from day one.
Hopefully this will all come true. Thank you for sharing all this information.