On 16 March, the Métropole Nice Côte d'Azur, ranked as one of the World's Top 5 Smart Cities by Juniper Research in February, opened its Smart City Innovation Center, a collaborative platform unique in France which brings together research and education actors with leading companies involved the smart city at Nice Méridia.
The 'Smart City Innovation Center', a new European benchmark
At the instigation of Christian Estrosi and in close partnership with Nice Sophia Antipolis University, the Métropole Nice Côte d'Azur has surrounded itself with a consortium of leading industrial companies (Veolia, IBM, m2ocity, Orange) in order to create the Smart City Innovation Center. The 300m2 showroom is located within IMREDD (Mediterranean Institute for Risk, Environment and Sustainable Development), in the centre of the Eco-Vallée. In the urban technology park, it neighbours Nice Premium, with the FabLab EcoLab, the Sustainable Design School and the start-ups of the Business Incubator Center (CEEI), particularly VuLog, Parkego, Advansolar, Gralon…
Through the Smart City Innovation Center, manufacturers will be able to pool their data and knowledge for the first time and increase the opportunities to experiment with new uses and services in synergy with the academic world of the University. This level of integration and sharing in terms of the smart city is unique in France and will make the Métropole Nice Côte d'Azur a European benchmark.
First application: Urban Environmental Monitoring (UEM)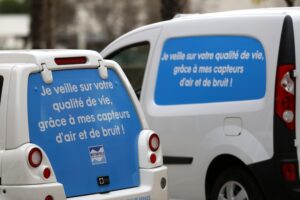 Through 3,000 sensors deployed across an area of 160 hectares in western Nice, this monitoring system will be used to process environmental data (air and noise pollution, water and energy, waste management, etc.) to test new services for inhabitants, companies and the public authorities.
« We have created a data warehouse unique in France allowing real-time hypervision, with predictive functions for improved management of the region », clarified Christian Estrosi, Member of Parliament, Mayor of Nice and President of the Métropole Nice Côte d'Azur.
A leading ecosystem for the smart city and innovative uses
The Smart City Innovation Center prefigures the future Eco-Campus, specialising in cleantech, which will be set up from 2017 in Nice Méridia and will complete an already-rich ecosystem with many benefits for the companies that choose to base themselves there.
Nice, which every year plays host to the Innovative City convention, has positioned itself in the smart cities niche since 2008 and the city has truly entered into the circle of the major smart cities, alongside Barcelona, New York, London and Singapore, according to Juniper Research's 2015 ranking.  With many innovations and major industrial partnerships, Nice actively sustains an eco-environment conducive to innovation and emulation for start-ups and large corporations alike.