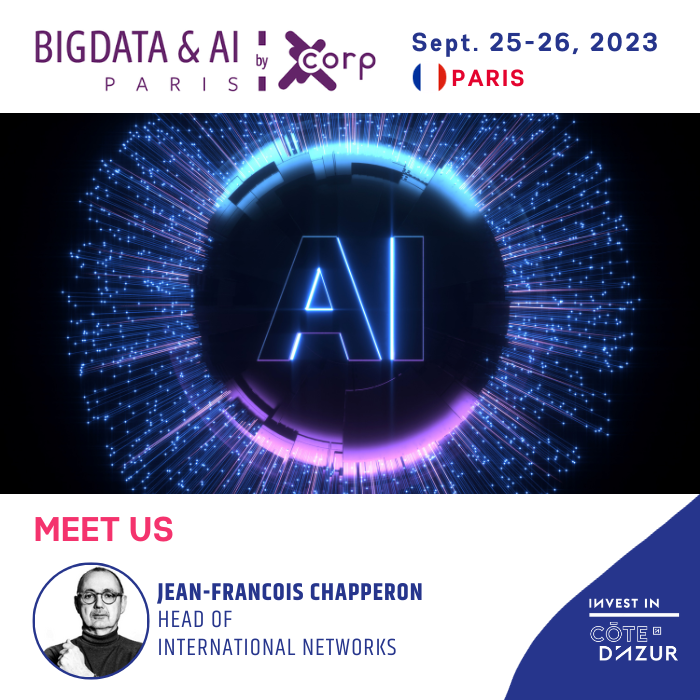 The 12th edition of Big Data & AI Paris takes place on September 25 and 26, 2023, at the Palais des Congrès.
This European-scale event will host over 350 conferences and workshops, feature 250 exhibiting companies, and welcome 16,000 participants both online and in-person.
The event aims to provide market leaders and stakeholders with two immersive days in the realms of Big Data and Artificial Intelligence. It serves as a compass for companies at various stages of their digital transformation, whether in terms of use-case qualification, risk anticipation, or specific tech talent recruitment.
The event will cover a plethora of topics, from data governance to cloud trends and Green AI.
Nice Côte d'Azur Metropolis: A Hub for the Development of Companies Leveraging Artificial Intelligence
Jean-François Chapperon, serving as the Head of International Networks for Team Nice Côte d'Azur, represents the Nice Côte d'Azur Metropolis. He will highlight the region's strengths as an innovation hub in Europe, particularly in Big Data and AI.
The Nice Côte d'Azur Metropolis: A Conducive Ecosystem for the Flourishing of Innovative Companies
The Nice Côte d'Azur Metropolis provides a favorable environment for the growth of the artificial intelligence sector. This dynamism is notably embodied by innovative startups, renowned academic institutions, and ambitious public initiatives.
The region fosters synergy between the academic and economic spheres through fruitful collaborations. These partnerships not only allow for the customization of technological solutions but also facilitate the continuous adaptation of university curricula to meet the evolving needs of the industry. We present below some emblematic examples of the region's excellence in Artificial Intelligence.
Fair Vision: Democratizing AI in Sports
Founded in 2019 in Nice, Fair Vision is a sporTech startup that perfectly exemplifies the local expertise in Artificial Intelligence. Specializing in computer-assisted sports analysis, the company has developed software solutions and autonomous video capture equipment. These technologies not only enable the capture and broadcasting of sporting events without human intervention but also real-time analysis of athletes' performances.
Qualisteo: AI Serving Energy Efficiency in Industry
The startup Qualisteo, specializing in AI-based energy-saving solutions, was founded in 2010 in Nice. This startup has developed an intelligent device capable of collecting and analyzing energy consumption data. Thanks to this innovation, organizations can achieve significant energy savings without an initial investment. The company has just completed a funding round of €5.1 million to continue its international expansion.
Qiti: Artificial Intelligence for International Traveler Security
Qiti, a startup based in Nice, embodies another facet of excellence in artificial intelligence present in the Nice Côte d'Azur Metropolis. As a "deeptech" labeled company, Qiti operates at the intersection of insurtech and traveltech, offering solutions that enhance and secure every stage of international travel. Through a combination of advanced technologies, including artificial intelligence, geolocation, machine learning, and automation, Qiti provides a range of services, alerts, and emergency information tailored to the specific needs of travelers. The company has also established strategic partnerships, including one with the INRIA center at the University Côte d'Azur, to remain at the forefront of generative AI innovation.
University Côte d'Azur: a Hub of Research and Academic Excellence
University Côte d'Azur (UCA) is a key player in this ecosystem. As the recipient of the "Compétences et Métiers d'Avenir" Call for Expression of Interest, UCA has secured a funding of 8 million euros for the French School of Artificial Intelligence project: Efelia Côte d'Azur. This project, conducted in collaboration with prestigious institutions such as Inria, CNRS, and Inserm, aims to develop and scale up AI education.
In April 2020, the Côte d'Azur was designated as one of the four sites selected for Interdisciplinary Institutes of Artificial Intelligence (3IA) in France, recognizing the region's expertise and experience in AI.
The 3IA Côte d'Azur, supported by renowned academic and research institutions such as Université Côte d'Azur, Inria, CNRS, Inserm, Eurecom, and SKEMA Business School, focuses on AI applications in areas such as healthcare and smart territories. It serves as a catalyst for the local AI ecosystem, promoting cross-sector collaborations and technology transfer. This strategic positioning aims to highlight initiatives that contribute to the dynamics of AI in the Côte d'Azur region.
---
Artificial Intelligence Nice Côte d'Azur France