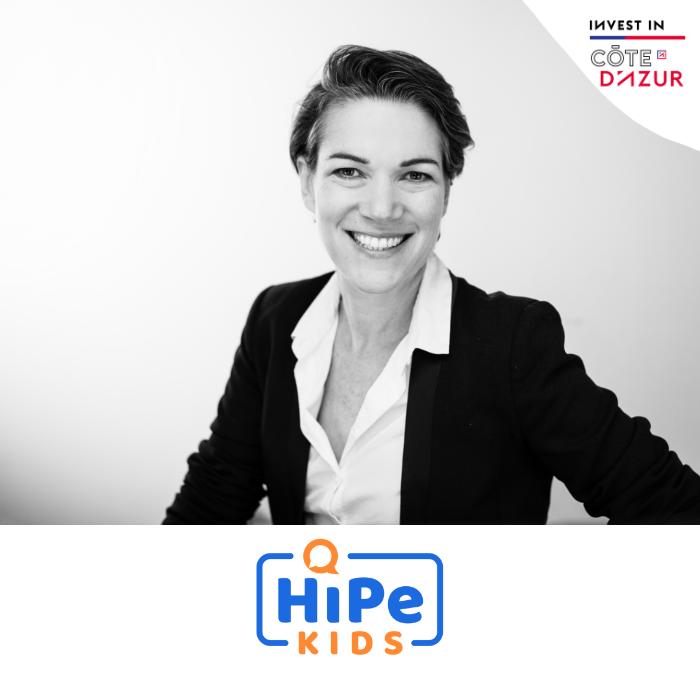 HiPe Kids, an EdTech startup based in Nice, France, offers an innovative model for teaching English to children aged 3 to 18. Founded five years ago, the company has distinguished itself through its highly personalized pedagogical methods.
The journey of HiPe Kids is remarkable, both in terms of growth and impact. From 20 clients and 3 teachers in 2018, it now has over 5,000 clients per year and has built a team of 60 teachers.
Due to this success, the company plans to double its teaching staff by the end of the year to meet ever-increasing demand. The startup currently has 11 permanent employees.
Financially, HiPe Kids' revenue has doubled each year, reaching 400,000 euros, with an ambitious target of 1 million euros for the next fiscal year.
At the heart of this success is the philosophy of hyper-personalization, which puts the human at the center of learning. This individual-centered approach has contributed to the company's exponential growth in France.
The future looks promising for HiPe Kids, with ambitions for international expansion, technological innovation, particularly in the field of artificial intelligence, and a possible opening up of part of its capital to welcome investors and strengthen its development.
Interview with Carmina Catena, co-founder of the online English school HiPe Kids.
What is the story of HiPe Kids?
Our story is deeply rooted in a passion for teaching English. For over two decades, I have been teaching this language. Being bilingual from birth, transmitting this skill has always been a vocation for me. Before this venture, I had already founded two companies dedicated to teaching. However, the idea for HiPe Kids was born from a clear vision to fill a gap in the field of education.
With this idea in mind, I participated in the What06 Hackathon and won the Innovation Prize. I then approached Mehdi Benrahhalate, co-founder of HiPe Kids, and we created HiPe Kids five years ago, without a logo or platform, in a typical startup spirit with an initial investment of 25,000 euros.
We had with us a few teachers and about twenty students eager to try our method.
We were convinced that traditional education needed to adapt to the demands of the modern world and the needs of today's children. From a standard model influenced by the industrial model of our economies, we had the will to diversify the way English teaching is provided.
What are the specifics of HiPe Kids' offer?
Our offer stands out for its ability to adapt to the individual needs of each student. Beyond simply teaching English, we have adopted a holistic approach to education. We do not just determine the student's level of English; we also analyze their learning style, motivations, and specific goals. For example, we have found that many parents wish to send their children to international schools. We are therefore able to specifically prepare these students for this transition.
Another distinctive aspect of our offer is the attention paid to neuro-atypical students. We have observed that 43 to 47% of our students have profiles such as dyslexic, dyspraxic, dysphasic, or on the autism spectrum. Faced with this reality, we have taken steps to recruit teachers who are specially trained and certified to meet these needs. Each teacher is carefully selected based on their experience and qualifications to ensure that he or she is best suited to meet the specific needs of each student.
In addition, we are developing technological tools to facilitate the process of connecting teachers and students. Currently, this process is done manually, but we plan to automate this task in the coming months to ensure even more precise and efficient matching.
How does your location in the Nice Côte d'Azur Metropolis contribute to your development?
The Côte d'Azur, and Nice in particular, offers a multitude of advantages for our company. First of all, the region is a true international crossroads, attracting people from all over the world. This cultural diversity is perfectly aligned with our target, allowing us to reach a varied and cosmopolitan clientele.
The territory is equipped with top-notch infrastructure, including Nice Airport, which greatly facilitates our travel, whether it's for our projects in Paris or internationally. Personally, I frequently travel between France and England, and our location within the Flex-O premises directly opposite the airport is an invaluable asset for me.
Additionally, the city offers gentle means of transportation between bike lanes and trams. The initiatives of the Metropolis address the current concerns of employees about the environment.
Furthermore, the exceptional quality of life offered by Nice is a major asset for recruitment. The city, with its pleasant climate, picturesque landscapes, and rich cultural heritage, attracts talents from all walks of life. This has allowed us to assemble a diverse and highly qualified team.
Finally, we have also benefited from the support of local networks. Organizations like Réseau Entreprendre, Bpifrance, and the Village by CA have played a crucial role in our various stages of development, offering us valuable advice and connecting us with other entrepreneurs and potential partners in the region.
What are your development projects?
Our ambitions for the future are focused on expansion and innovation. First of all, we are considering opening up part of our capital. This is a major step for us, as it means we are ready to welcome external investors to help us reach new milestones.
We are particularly interested in partners who have expertise in the fields of education, technology, and artificial intelligence. These areas are essential for our future growth.
Speaking of technology, we are exploring how the integration of artificial intelligence can improve our offering. AI has the potential to revolutionize education by further personalizing learning and offering tailored solutions for each student. We are eager to see how this technology can be used to strengthen our value proposition.
Our ambition is not limited to France. We have plans for international expansion, particularly in Spain and Italy in the next two years Mastery of English is a universally sought-after skill, and we believe that our unique approach to teaching can benefit students worldwide.
Finally, we are always attentive to the needs of our students and their parents. We are considering developing new programs and services to meet specific needs, such as preparation for international schools or catering to students with special educational needs.
---
Startups Nice Côte d'Azur France