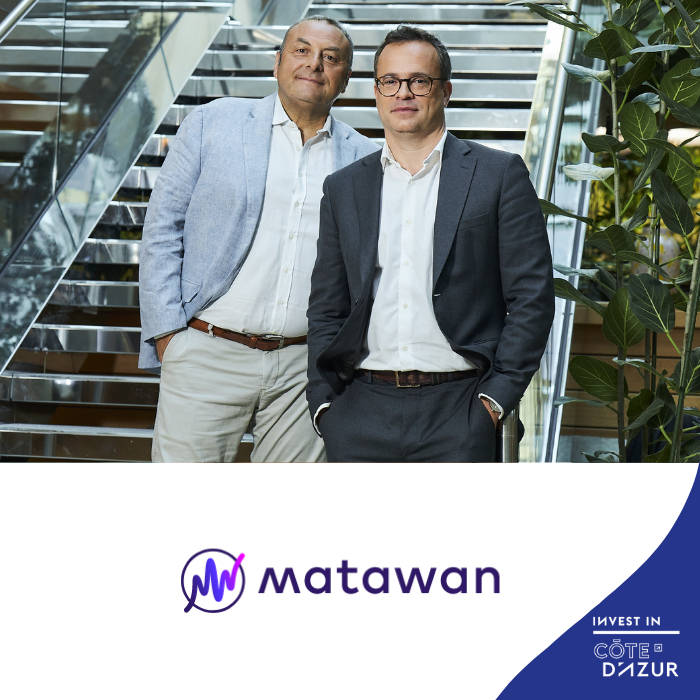 Ubitransport, the French pioneer in providing intelligent mobility solutions for public transportation, has unveiled its new identity, Matawan, during the 64th edition of the UITP (International Association of Public Transport)., to embody its convictions and accelerate the deployment of new networks in France and internationally, aiming to become the digital mobility platform that connects public transportation with other modes of mobility.
This transformation comes after several significant developments for the company, including a €45 million fundraising in 2019, the acquisition of four companies, including the Côte d'Azur based start-up Mobireport, and its recognition as a member of the French Tech 120 program for the past four years.
Originally from Mâcon, Matawan (formerly Ubitransport) established itself in Cagnes-sur-Mer within the Nice Côte d'Azur Metropolis in 2019, with the assistance of Invest in Côte d'Azur.
Matawan, deriving its name from "Mobility Any Time. Any Where. Any Node," advocates for the vision of accessible mobility at all times, in all locations, regardless of the mode of transportation used, thus combining accessibility, simplicity, and freedom. Multimodality is at the heart of the company's impact-driven strategy.
As an expert in intelligent transportation systems, Matawan offers cloud-based solutions for public transportation management, thereby becoming the digital mobility platform that connects public transportation with other modes of mobility.
With over 300 equipped networks in France, Matawan has established itself as a leader in solutions for the management and optimization of public transportation.
The company has 250 employees and aims for a turnover of 50 million euros.
By leveraging the cloud and connected ticketing, Matawan has successfully helped decongest low-density areas, promoting inclusive and sustainable mobility.
Matawan aims to support the ongoing transformations in mobility by providing solutions that address economic, environmental, and societal challenges.
The four pillars of its offering are WanFare (ticketing solution), WanPay (monetary solution), WanReport (reporting and service quality), and WanData (mobility intelligence).
As an impact-driven company, Matawan aims to simplify daily travel, improve the quality of service of networks, and contribute to reducing the environmental footprint of journeys.
With its structured CSR approach and participation in the United Nations Global Compact, Matawan positions itself as a key player in responsible mobility.
Building upon its €45 million fundraising in 2019, Matawan continues to invest in research and development to support increasingly efficient mobility. With its expertise and innovative solutions, Matawan aspires to become a French champion in mobility on an international scale.
---
Cleantech Nice Côte d'Azur