The extension and modernisation of Nice Cote d'Azur airport is central to the funding contract for 100 million euros signed on Friday 21 November by Dominique Thillaud, Chair of the Executive Board of Aéroports de la Côte d'Azur and Philippe de Fontaine Vive, Vice-President of the European Investment Bank (EIB).
No European airport has benefited from such an amount to support its development.  This is a first-class, large-scale European project as Nice Cote d'Azur airport is France's second airport after Paris and an important international hub for accessing the region and the Principality of Monaco.  « This is both a regional and European project focused on the same objective of the performance, innovation and competitiveness of air transport », stressed Philippe de Fontaine Vive, Vice-President of the EIB on signing the contract.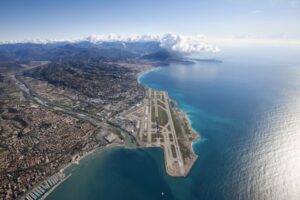 ©Aéroports de la Côte d'Azur /J.Kelagopian
This is key funding for Nice Cote d'Azur Airport, which is currently aiming to increase the capacity of its existing terminals by approximately 4 million to reach 15.5 million passengers annually. The loan, obtained under very competitive terms due to the triple-A rating of the EIB and the long maturities proposed, will be used to increase capacities and support the growth in air traffic, improve the quality of services to travellers and develop innovative solutions both for the runways to facilitate the take-off and landing of large planes and in terms of the services offered to travellers for the registration of people and their luggage.
This financing reflects the EIB's commitment to the economic development of the Provence Alpes Cote d'Azur region, bringing the total funding granted by the EIB across this region and in key sectors such as transport, health, energy efficiency, youth training and innovation to around 700 million euros for 2014.