Greencom Networks (Sophia Antipolis based IT energy management solutions provider), is one of 4 European renewable energy specialists that created Beegy , a unique cross-sector joint venture to drive energy transformation forwards. Beegy – the brand name is derived from Better Energy – was born last November in Germany, and showcased at CES Las Vegas last week with BMW carport.
Beegy, the new European brand that aims at transforming the energy market
With a range of innovative services and products for intelligent, decentralised energy management, the Mannheim-based energy company MVV Energie, the Munich-based business and service group BayWa, the Irish heating and cooling system manufacturer Glen Dimplex and the  software specialist GreenCom Networks have announced last November the signing of the memoranda of association that BEEGY GmbH  would act as a supplier for integral solutions and system integration.
GreenCom Networks has two offices in Europe. The one in Munich handles the commercial and administrative aspects while the entire technology solution is developed in Sophia Antipolis since 2010. Over the past years, GreenCom Networks in Sophia Antipolis grew from 3 to 15+ persons, and plans to hire 5-10 additional individuals by mid-2015. This joint-venture associated to a fund-raising round completed before the summer will allow GreenCom Networks to deliver and further enhance its solutions to the market.
For the first time, Industrial, Commercial and Residential customers will have a single supplier and manager for their Decentralised Energy needs. BEEGY will enable Smart Grid ready Decentralised Energy Management and Distributed Storage from Renewable Sources.  Photovoltaic  Collectors, Battery Storage, Building Energy Storage Management Systems and Thermal Heating. The service offering of BEEGY ranges from planning via the final supply and installation of sustainably operating systems – such as photovoltaic collectors, thermal storage systems such as heat pumps and storage heaters or battery storage – to even as far as their energy-optimised deployment.
BEEGY will not only benefit individual consumers through lower energy costs, it will also be a powerful Disruptive Business Model in the Electricity market,  by creating new value opportunities such as Aggregated small scale Distributed Energy Storage, which can be connected to the Smart Grid in milliseconds.  This will facilitate Demand Management Programmes, Time of Use Tariffs, together with the opportunity for home owners to both produce and consume their own electricity.  These Disruptive Technologies and Business Models will be fundamental drivers of the Smart Grid and Energy Systems of the Future.
The newly established company BEEGY has its headquarters in Mannheim, Germany. At the helm of the Executive Board will be GreenCom boss Christian Feißt, who was previously Managing Director of Cisco Systems in the area of smart grids and obtained a doctorate from the University of Hohenheim in business management, and Marco Demuth, an experienced energy manager, who has gained extensive experience carrying out leading functions at the international logistics company DHL, and also as a founding Managing Director of Yello Strom.
Beegy at CES Las Vegas with BMW i Home Charging Services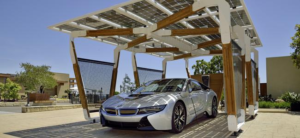 Carport BMW © BMW
BMW has staged at the CES Consumer Electronics Show in Las Vegas a live demonstration of BMW i Home Charging Services, which was jointly developed by BMW and Beegy based on the Beegy Software Platform. The electric  vehicle is charged with solar power where available, or at the cheapest off-peak rates, resulting in savings of up to 800 dollars a year in the USA where Time-Of-Use (TOU) electricity pricing is in place.
[>] More information: Beegy.com and greencom-networks.com .