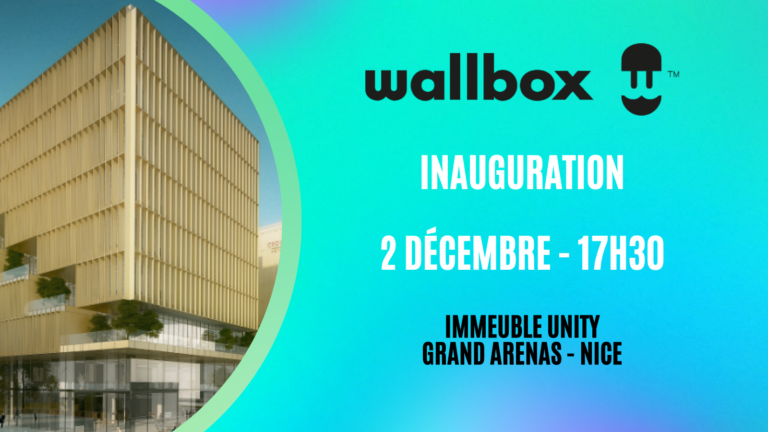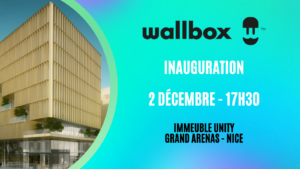 Supported by Team Côte d'Azur during its set up, Wallbox, one of the main leaders in the electric charging market, inaugurates its first commercial unit in France in Nice.
The event will take place on December 2, 2021, starting at 5:30 pm, at the Unity building located on Chemin de l'Arenas in Nice.
If you wish to participate in the event, please send your contact information to Jenyfer Claustres.
Among different emblematic regions of France, he international listed company Wallbox N.V (NYSE: WBX), specialized in the global supply of intelligent electric vehicle (EV) charging systems and energy management, has chosen the French Riviera, territory of sustainable innovation and a pool of cleantech experts. and mobility, for its establishment in France.
During this inauguration, alongside partners and local officials, Morad Ouchene, Regional Director for France, the United Kingdom, and Ireland at Wallbox, will present the company's flagship equipment and solutions, its international outreach, its hiring forecasts, and its marketing and sales deployment strategy across the entire national territory in 2022, particularly in the South region and in the Principality of Monaco.
For Morad Ouchene, Regional Director France, United Kingdom and Ireland at Wallbox (in the photo): "We have a dual objective: to make the electric vehicle charging experience for users smooth, intuitive, reliable and fast to facilitate their mobility, and to strengthen our proximity to our customers – professionals, individuals and institutions – through a network of local authorized distributors. Wallbox is gaining momentum on the French market at a time when accelerating electric vehicle sales is becoming a priority to ensure global energy transition. By 2030, industry experts estimate that the French market will have 285,000 electric charging stations with an annual growth rate of 28%."
Founded in 2015, Wallbox is a global technology company whose goal is to change the way the world uses energy in the electric vehicle industry. The company creates intelligent charging systems that combine innovative technology with exceptional design and manage communication between the vehicle, the electrical grid, the building, and the charger.
Wallbox offers a complete range of charging and energy management solutions for residential, semi-public, and public use in more than 80 countries. Wallbox's mission is to make the adoption of electric vehicles easier today for a more sustainable use of energy tomorrow.
The company, headquartered in Barcelona, employs more than 700 people in Europe, Asia, and the Americas.
More information : www.wallbox.com