08
NAS has been active in the maritime sector since 2010 and is involved in various areas of expertise: design and engineering, surveys and certifications as well as consulting services.
Interview with Ing. Kurt Gutteridge, Managing Partner of NAS (picture below)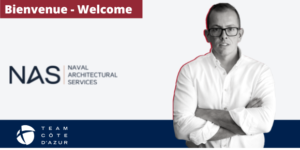 Can you introduce us to the activities of NAS?
Our company was founded in 2010 in Malta. We historically developed in the field of ship surveys and certifications and we were also involved in the development of the Malta Commercial Yacht Code.
NAS carries out various types of surveys (tonnage measurement, MARPOL certification, load line assignment, Non-IACS classification services…) to ensure compliance with national and international standards, maritime codes and conventions. Our clients can be public institutions, banks, or vessel owners, and this in a legal context that continues to evolve.
The experience and the knowledge acquired over the years have allowed us to develop new activities in the field of design, naval architecture as well as engineering and design.
Our clients are mainly super yachts, but we also work on commercial and specialized vessels such as passenger ferries, cargo vessels, or fish farm vessels, which we support with our technological and design solutions, especially for compliance with new environmental standards.
What are the specificities of NAS?
We focus on a niche sector, the upper end of the yachting market, which consists mostly of super yachts for which we act as engineering and design specialists.
From Antibes, we also want to develop our consulting business in the south of France. This is a strong component of our offer which has been naturally enhanced by the different knowledge acquired by the company within the projects of our clients but also by the participation in European projects, which allows us today to propose personalized and innovative solutions to our clients.
In addition, we are Appointed Surveyors for the Maltese flag and are able to carry out surveys and deliver official certifications. This is very useful as the Maltese flag is used by many vessels that are based in French marinas and operate between France and Italy.
Having an office in Antibes, in the direct vicinity of the Port Vauban is a real opportunity to respond to new technological challenges with a permanent structure in the south of France.
What are the reasons for your establishment on the Côte d'Azur?
During the pandemic crisis, we decided to accelerate our development and get closer to our customers and the market. Our establishment in Antibes is the first outside Malta.
We identified the south of France as the main location for super yachts in the Mediterranean and certainly in the world. It was therefore natural to set up in Antibes to support our growth plans.
Moreover, during the wintering period, the majority of yachts are based in the South of France: Antibes, La Ciotat, La Seyne-sur-mer,…so we can assist them in the work they carry out during this period while ensuring that industry standards are respected. This technical assistance activity allows us to innovate with our clients and to remain at the forefront of the technological solutions that will enable them to carry out their development projects.
The Côte d'Azur also has major players such as the Université Côte d'Azur and the Pôle Mer Méditerranée as well as important research and innovation clusters. This is an important asset for developing innovative services that will strengthen the pertinence of our offer and help us remain the leader in our market.
Our investment in the Côte d'Azur is a long-term commitment supported by an ambitious development plan. We recently set up in Antibes and we have now a full-time employee and I have been traveling regularly to Antibes from Malta to ensure the development of the office.
We want to be recognized not only as a Maltese company with a branch in the south of France, but also as a French company.
What support did you receive from Team Côte d'Azur?
The support we received from Team Côte d'Azur and the experience of setting up the company in Antibes was very positive.
We were impressed by the support of the team and the various institutional contacts for our project. We saw the desire to maintain a high level of expertise in the Côte d'Azur maritime sector and to strengthen the region's blue economy.
Team Côte d'Azur's support was mainly on two levels.
Firstly, on a human level: the project developed during the COVID period and the limitation of travel, but I was always able to count on Team Côte d'Azur from a distance and in particular Cyril Dary who was fantastic throughout the support.
The second aspect of the support was the connection to local networks. Even though we knew some of the players in our field of activity, we were able to benefit from connections that helped the project run smoothly. Thus, we joined the ECPY (European Committee for Yachting Professionals) and we are studying the possibility of joining new structures to reinforce our presence.
What are your development expectations?
We are at the early stages of our development on the Côte d'Azur, and we are already very proud to have been able to develop our presence on the Mediterranean coast with our office in Antibes.
Our first objective is therefore to make our new establishment known to as many yachting professionals as possible.
In the medium term we want to consolidate our presence by developing our services from our new office.
We are working on developing relationships with educational institutions in France in order to host trainees that we may recruit, as one of the main challenges of our industry is to identify and recruit talents that are trained in marine engineering and naval architecture.
Depending on the pace of our growth, the Antibes office will be able to accommodate three to four permanent staff within the next three years.
Finally, as a stakeholder in the maritime sector, we also want to respond to the new challenges facing our industry, particularly in terms of sustainable development and positive impact on the environment. Our solutions must be able to contribute to the sustainability of our industry and the ships we design.

NAS – Naval Architectural Services
13 Rue Sadi Carnot – 06600 Antibes
+356 2166 8254