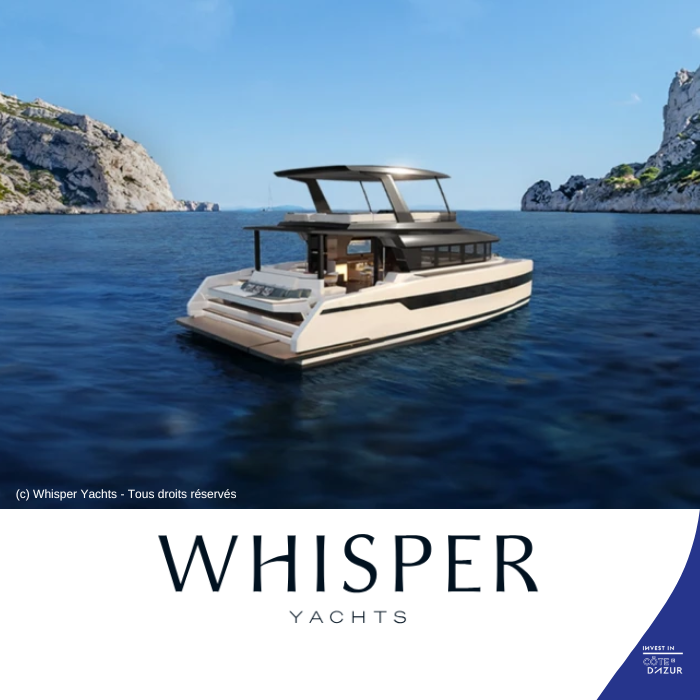 On the occasion of the Cannes Yachting Festival 2023, Whisper Yachts, the innovative company from Nice (Eze), will unveil its autonomous, eco-friendly, and 100% market-ready yachts.
An innovation from the Côte d'Azur that contributes to the democratization of eco-friendly sailing.
The company is the only one to offer a 15-meter electrically propelled catamaran.
Born from the vision of Guy Marchal in 2019, Whisper Yachts embodies the alliance between luxury, performance, and environmental respect. The brand has set itself the goal of rethinking man's relationship with the sea, by offering sustainable and cutting-edge solutions for the future of sailing.
Innovation and Ecology: Whisper Yachts at the Forefront
Since its creation in 2019, Whisper Yachts has set out to revolutionize the yachting market. Its founder, Guy Marchal, drawing on a career rich in innovative experiences, aims to fill a gap in the industry: the creation of boats that combine environmental respect with cutting-edge technology.
Whisper Yachts' unique approach is based on integrating technologies from various fields, including the automotive sector for batteries, to create an electric, sustainable catamaran accessible to all.
The company chose the catamaran for its potential in terms of ecology and energy efficiency. he boats thus incorporate 40 m2 of solar panels for silent and eco-responsible sailing, while offering a "slow-cruising" experience to savor the beauty of the marine environment.
Clear Ambitions for Whisper Yachts
By participating in the Cannes Yachting Festival event, Whisper Yachts certainly intends to make its message heard. The company aims for 10% market share by 2027, while working to make its yachts 90% recyclable by 2030.
Whisper Yachts' vision goes beyond just selling yachts. The Côte d'Azur-based company aims to be a driving force for positive change in the yachting industry, promoting innovative and environmentally friendly solutions.
---
Cleantech – Nice Côte d'Azur France