Thanks to a global commercial prospecting approach, a foreign investor-pull strategy and a sustainable local economic environment, Agency Team Côte d'Azur shared a very positive 2018 activity report. This key player in charge of promoting business activities in the Alpes-Maritimes assisted 37 foreign-owned companies, accounting for 746 jobs created or maintained over the next three years, in their set-up process. As a result, these growing figures represent the competitivity of the Azurean territory. Mostly European, American and British companies specializing in key High-Technology fields and consumer markets, such as Biotechnologies, Artificial Intelligence and Automotive, invested in the region.
Most investment orders were made by foreign-owned companies
Team Côte d'Azur contributed to the set-up of 37 foreign-owned companies from 14 different countries – with a slightly higher concentration from Northern Europe, the United Kingdom and America. Most investments originated from Western Europe (62%). France kept a top place, totalling 13 newly established French companies, which accounted for 25% of jobs created, followed by Germany with four new local set-ups.
Out of 746 jobs planned for the next three years, 75% will be created or maintained by foreign-owned companies. This sharp increase compared to 2017 represented Team Côte d'Azur's efforts in short- and long-term commercial prospecting in international markets.
Most companies decided to set up in the Nice Côte d'Azur Metropolis or in Sophia Antipolis, reflecting the attractiveness of the area. Recently, the new Research Institute dedicated to Artificial Intelligence in the Côte d'Azur ("3IA – Institut Interdisciplinaire d'Intelligence Artificielle Côte d'Azur") was welcomed there.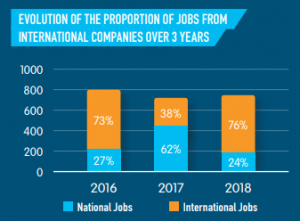 Industry-based analysis of newly established companies: ICT and Service sectors diversified, and Life Sciences grew
The Service and ICT (Information and Communication Technologies) sectors were still predominant in 2018, representing over 60% of newly established businesses. Team Côte d'Azur was involved in the set-up of 33% of ICT companies, representing 35% of jobs created / planned over the next three years. As a result, these figures highlight the emergence of digital activities, especially in the Automotive (Mercedes, Ferchau, Melexis), Cybersecurity (Accenture) and Fintech (KeyQwant) areas.
Investments in niche markets over the next five-ten years for over-specialized companies include Artificial Intelligence, Smart City and New Mobility solutions.
Although Services and ICTs were predominant, the other sectors were more evenly distributed. A growing number of health-oriented businesses set up too. The Health industry alone accounted for over 250 locally created / maintained jobs, especially in Sophia Antipolis thanks to the arrival of foreign companies specialized in the pharmaceutical and biotechnology sectors (SINEOS, NUVISAN, MD INTERNATIONAL…). This proves even more relevant since the take-over of the Galderma site.
The Ecotechnology sector maintained its growth rate, with six newly established stakeholders in 2018, two of which innovating in maritime energies and micro-analysis of liquids.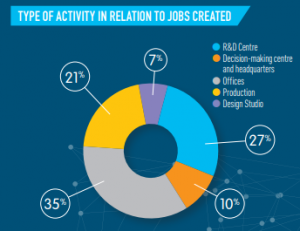 International set-ups in the region generated growth and jobs in high-performing sectors
In 2018, many foreign-owned companies with high innovation potential were seduced by the excellent education level of local talents and available R&D resources, leading them to set up in the Azurean territory.
Sophia Antipolis welcomed NUVISAN, a German group specialized in developing medication for life sciences. This new arrival enabled the preservation of eighty jobs at the Galderma site, which is now a biopark. « By offering a fully integrated R&D solution (from the manufacturing of active ingredients to clinical studies) adapted to the development of human and animal medication, medical devices or cosmetic products, NUVISAN and other key local stakeholders will contribute to the growth of the Life Sciences industry in the biopark of Sophia Antipolis » stated Pierre Diebolt, Managing Director.
French startup KLEARIA, which is from the National Centre for Scientific Research (CNRS) and specialized in developing technologies analyzing water micropollutants, also decided to set up in the region. It plans to hire thirty people within the next three years. The Azurean territory is seen as a very attractive partner by « creating an environment in which cleantech companies can thrive. This can be seen through the Nice Eco Vallée, and the presence of key commercial accounts and R&D stakeholders. Team Côte d'Azur played an essential part through our whole set-up process», highlighted Clément Nanteuil, CEO.
Team Côte d'Azur performed an enhanced two-pronged mission in 2018: Attracting and retaining investments and talents 
Dedicated to its motto "teamwork", Team Côte d'Azur played a driving and unifying role in the set-up and roll-out of plans to seek foreign investment and increase exposure with joint partnerships during more than seventy trade shows and events throughout the whole year. In its two-pronged approach to attract and retain investments and talents in the region, Team Côte d'Azur proved itself to be a pivotal influence at a local scale in many projects, such as the take-over of the Galderma site in Sophia Antipolis, and the shaping of a dynamic environment in the Automotive industry. Today, this community is run by the "Smart Vehicle Côte d'Azur" initiative, which was co-built by Team Côte d'Azur.
« Artificial Intelligence, Life Sciences – human as well as environmental – and new technologies in all their diversity… Nothing that is looking forward to the future is foreign to a territory that is said to be blessed by the gods. Year after year, Team Côte d'Azur pursues its mission to attract every kind of talent from France, Europe and all around the world », specifies Philippe Pradal, President of Team Côte d'Azur.
Download the full 2018 activity report of Team Côte d'Azur: